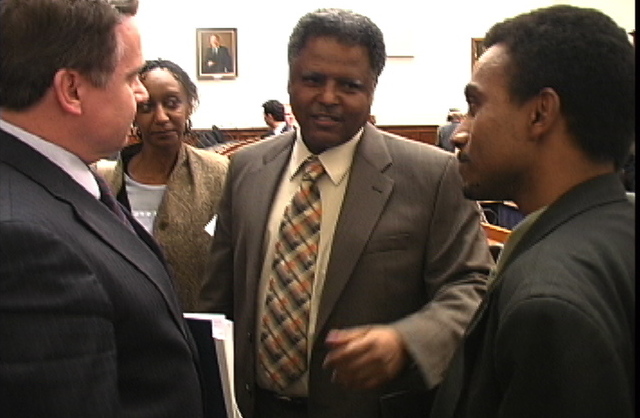 Mon Aug 4, 2014
LONDON – Britain summoned Ethiopia's chargé d'affaires on Monday to raise its concerns about the arrest of a British national being held in Ethiopia who has been sentenced to death over his involvement with an opposition political group.
Andargachew Tsige was sentenced to death in 2009 in absentia and another trial handed him life behind bars three years later. He was arrested in Yemen earlier this year and extradited to Ethiopia. [ID:nL6N0PK3GT]
On Monday, Britain summoned one of Ethiopia's top diplomats in London to meet Foreign Office minister Mark Simmonds, who expressed "deep concern" that Andargachew had not been granted access to the British consulate.
"Mr Simmonds asked the chargé to urge his government to deliver on previous commitments to provide consular access without further delay, and to provide assurances that they do not intend to carry out the death penalty imposed in absentia," a statement from the Foreign Office said.
Andargachew, secretary-general of the Ginbot 7 group, was among 20 opposition figures and journalists charged with conspiring with rebels, plotting attacks and attempting to topple the government.
(Reporting by William James; Editing by Andrew Osborn)
—
Related:
Why the arrest of Andargachew Tsige is a huge embarrassment for the West (FP)>
BBC News: PM Hailemariam Defends Andargachew Tsege Arrest (BBC News)
Andargachew Tsige: Letter From UK's Foreign Office to Ethiopian American Council (TADIAS)
Ginbot 7′s Andargachew Tsege: Ethiopia confirms arrest (BBC News)
Snatched: Justice and Politics in Ethiopia (The Economist)
Fears for Safety of Returned Opposition Leader (HRW)
Ethiopia Urged to Protect Opposition Leader (AP via The Washington Post)
Yemen Extradites Exiled Ethiopian Opposition Chief, British Citizen, to Ethiopia (AFP)
Ethiopia Ginbot 7 leader facing death penalty 'extradited from Yemen' (BBC News)
UK Stands Accused Over Extradition of Ethiopian Opposition Leader (The Guardian)
Ethiopia Asks Yemen to Extradite Activist (Al Jazeera)
Leading Ethiopian Opposition Figure Detained in Yemen (Yemen Times)
Join the conversation on Twitter and Facebook.