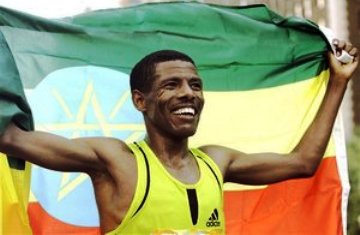 Stuart Ramson / AP Photo
From the Associated Press
By RICK FREEMAN
AP Sports Writer
NEW YORK — Haile Gebrselassie already showed he can make it anywhere; he can add New York to his list. Running in the Big Apple for the first time, the 34-year-old Ethiopian won the New York City Half Marathon in 59 minutes, 24 seconds Sunday – the second-fastest time in the United States and his eighth win in eight half marathons.
"I was dreaming just to run in New York City. The dream has come true this morning," said Gebrselassie, probably the world's greatest distance runner. "Wow, I'm so happy!"
Abdi Abdirahman of the United States was second, more than a minute behind. Two-time Boston Marathon champion Robert Cheruiyot of Kenya was third in the second running of the race.
Hilda Kibet of Kenya won the women's race in 1:10:32, outsprinting defending champion Catherine Ndereba by 1.15 seconds. Nina Rillstone of New Zealand, a surprise leader until the final quarter-mile when the two Kenyans passed her, was 2.60 back in third.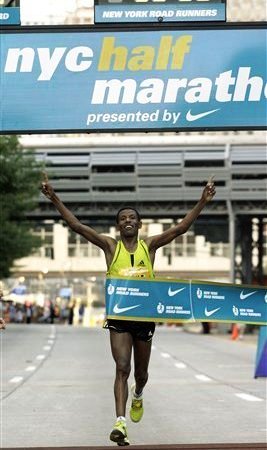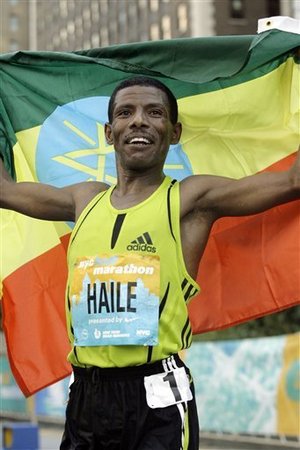 Stuart Ramson / AP Photo – Haile Gebrselassie, from Ethiopia, crosses the finish line for first place with an official time of 59 minutes, 24 seconds, at the 2nd annual New York City Half-Marathon, Sunday, Aug. 5, 2007.
Gebrselassie, a two-time Olympic gold medalist, emerged from Central Park after the 7-mile mark, along with Cheruiyot Abdirahman. Gebrselassie and Abdirahman dropped Cheruiyot when the Kenyan went for water, and before the American knew it, he was in Gebrselassie's wake, too.
"I thought I was going to recover my surge and then just maintain the pace but it wasn't that way," Abdirahman said. "I didn't give up, no way. We know Haile's the greatest, but at the same time, this is sports."
Gebrselassie didn't see it quite the same way.
"Right after the park, I just said 'OK, this is my race,'" he said.
All that was left was a Sunday morning jog. He took a moment to gawk at Times Square, like any tourist would, as he breezed through, then he trotted down the West Side of Manhattan to Battery Park, occasionally looking back to see if anyone was gaining on him.
Of course, no one was, even though Abdirahman's time of 1:00:29 was a personal best. Cheruiyot was taken to a hospital as a precaution after he finished in 1:00:58. In October, the Kenyan slipped while crossing the finish line of the Chicago Marathon and spent two days in the hospital with a concussion.
The women's race wasn't decided until Kibet turned it on at the finish. The Kenyan, who said she will probably compete for the Netherlands in the 2008 Olympics, discovered her finishing kick this year in a race when she had to beat her sister over the final 100 meters or so.
"You know when it comes to sprinting, when you're just a few meters from someone, then you feel very strong," Kibet said. "You're just fighting to win."
Ndereba was confused by marshals pointing to different routes at the finish for men and women, and didn't see a sign indicating how close the runners were until 200 meters remained. It wasn't enough to catch Kibet, who also beat Ndereba by more than 30 seconds in a 10-kilometer race in July.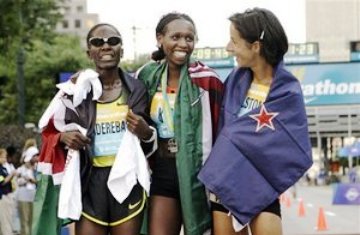 Stuart Ramson / AP Photo – Hilda Kibet, from Kenya, center, the first woman to cross the finish line at the 2nd annual New York City Half-Marathon, stands next to Catherine Ndereba, left, 2nd place from Kenya, and Nina Rillstone, 3rd place from New Zealand, Sunday, Aug. 5, 2007. Kibet's official time was 1 hour, 10 minutes and 32 seconds.
"I didn't know who to go with," Ndereba said. "I'm not disappointed. I never get disappointed for this kind of thing. … I count it as something to work on."
The temperature was a comfortable 70 degrees after a week of oppressive heat and humidity, helping Gebrselassie set the course record.
Gebrselassie, who holds world records in the 10K and 20K, won gold in the 10,000 meters in Atlanta in 1996 and Sydney in 2000. His time Sunday (a half-marathon is slightly more than 21 kilometers) was second-best in the U.S. only to his own 58:55 in Tempe, Ariz., last year. It was the 16th-fastest half marathon.
In the days before the race, Gebrselassie soaked up the bustle of the city. On Sunday morning, he ran through mostly deserted streets.
"Yesterday, I was in Times Square. I was there," he said. "It was very busy. Today, nobody. Amazing."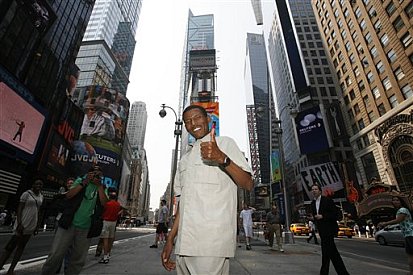 Shiho Fukada / AP Photo – Ethiopian distance runner Haile Gebrselassie poses for photographers in Times Square in New York, Friday, Aug. 3, 2007. Gebrselassie will be making his New York racing debut on Sunday in the NYC Half-Marathon.
Does this mean he'll run the New York City Marathon?
"Not this year," Gebrselassie said. "I'm thinking 2008 or 2009. I'm thinking I'll run the New York Marathon before I stop running, surely."
Related News and Links
She Did It Again! Photo Highlights from Tirunesh Dibaba's Victory in the Big Apple