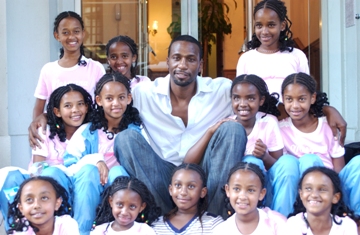 Photo by Steven Dyer of VicRae Inc. for Tadias Magazine.
New York – The much anticipated young dancers of Ethiopia (pictured above with actor/singer Leon yesterday) have arrived in New York to kick-off their millennium celebration tour in the United States.
After a morning appearance on NBC's The Today Show, they were hosted by actor Leon, best known for starring roles in The Temptations, The Five Heartbeats, Cool Runnings and The Little Richard Story, for a bus tour of New York City.
The troupe of 11 girls, ages 7 to 12, will also be hosted by Reverend Calvin Butts of the Abyssinian Baptist Church, one of the oldest, largest and most affluent African American churches in the United States.
According to the church's official history, in 1808, Ethiopian merchants in New York alongside a few African Americans established the Abyssinian Baptist Church, a.k.a. (ABC).
The church's official logo, an Ethiopian Cross, was personally presented by Emperor Halie Selassie in highly publicized ceremony in 1954 in Harlem, New York.
Meanwhile, ABC has announced that it is sending 200 churchgoers, dignitaries and media to Ethiopia in September to celebrate the millennium in commemoration of the Church's 200 years anniversary.
The dance troupe is scheduled to perform at New York University's Skirtball Center for Performing Arts on Sunday, August 12th.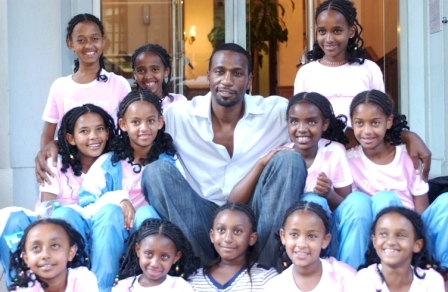 Mesgana (an Amharic for gratitude), "represents the hope this tour will bring to the girls of Ethiopia", says the press alert released by the Children of Ethiopia Education Fund, a non-profit organization based in Murray, Utah, and the tour's primary organizer.
The group is also scheduled to perform in Washington, DC, Columbia, MD, Evanston (Chicago), IL, Atlanta, West Orange, NJ, Denver & Boulder, CO, Salt Lake City, Murray, & St. George, UT, San Jose, Palo Alto, Ontario/Upland, and Los Angeles (San Fernando), CA.
According to the tour organizers, for two hundred to five hundred dollars a year sponsors can send a student to a private school in Ethiopia.
Currently 800 students are enrolled in the program.
The tour also benefits Ethiopia Reads, another non-profit organization founded in 2003 by Yohannes Gebregeorgis and led by the celebrated children's author Jane Kurtz. The group establishes libraries in schools in Ethiopia and has published many books in Amharic.
Tadias Magazine is proud to be the media sponsor of the New York Tour. To buy tickets for the New York show, CLICK HERE.