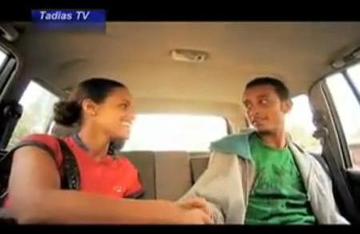 Tadias Magazine
By Tadias Staff
Published: Wednesday, August 5, 2009
New York (Tadias) – Guzo, an award-winning Ethiopian film, is scheduled to screen at Helen Mills Theatre in New York City on Saturday, August 8, 2009.
Guzo, which won best picture at the 2009 Addis International Film Festival, disperses humor among more sober points of the film to delicately highlight the social, cultural and economical differences between Ethiopian urban elite and the larger rural-based majority who struggle for their daily survival. Staged as part documentary and part reality show with no real actors or script, Guzo chronicles the interaction between two young residents of Addis Ababa and their peers in the Ethiopian countryside over the course of 20 days as the characters confront stereotypes about each other and grapple with matters of gender and privilege, among other issues.
"Basically, we transplanted two urban Addis young adults and gave them a taste of rural Ethiopia," says Aida Ashenafi, the film's director.
"I have always loved the art of storytelling and engaging behind the lens of the camera. Guzo was a project that both inspired and intrigued me from the beginning. As my filmmaking background is mostly fiction films, not documentary, I feel that Guzo is more entertaining. One can relate tremendously whether you come from the city, the countryside, Ethiopia, America, Europe etc. It crosses many boundaries while touching on human issues that bond us all."
The film has also earned the distinction of becoming the very first Ethiopian film selected to be shown on all current Ethiopian Airlines international flights.
If you Go:
Guzo is scheduled to screen at Helen Mills Theatre (39 west 26th street between 6th & 7th ave) in New York City on Saturday, August 8, 2009 at 1:30 and 3:30 PM. Click here to purchase your ticket. For more information, please call: 917.512.5416.
Interview with Guzo's Cinematographer Zeresenay B. Mehari

View photos from Guzo's Premier in Washington D.C.