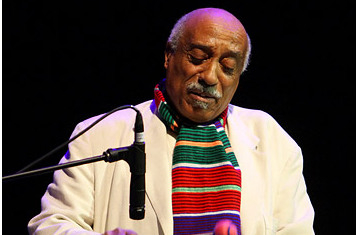 NPR
By Patrick Jarenwattananon
08- 5-2009
I know, I know. The response to this question is always "does it matter?" And the answer is usually "no."
Still, it's occasionally useful to explore. And this year, there seems to be some balking at the inclusion of Ethopian groove music pioneer Mulatu Astatke within the jazz umbrella. I heard it privately from a few people when Bob Boilen, host/creator of NPR Music's All Songs Considered, called Astatke's new album Inspiration Information 3 "the best jazz record I've heard in 2009." Recently, the voracious listener known as Free Jazz Stef also expressed some reservations:
This album is OK, but nothing more than that. It is a mixture of stuff, often characterless, but the Ethopian's music is so compelling, that it even withstands the treatment given here. I hope it will lead listeners to the real music. Read more.
Yekermo Sew: Mulatu Astatke and Heliocentrics Live

Ace to Ace interview with Mulatu Astatke
In the Ethiopian musical world Mulatu Astatke is atypical, totally
unique, a legend unto himself. He was the first Ethiopian musician
educated abroad, object of tribute and admiration. Mulatu is the
the inventor and maybe the only musician of Ethio-Jazz (Jazz
instrumentals with strong brass rhythms and traditional elements
of Ethiopian music).