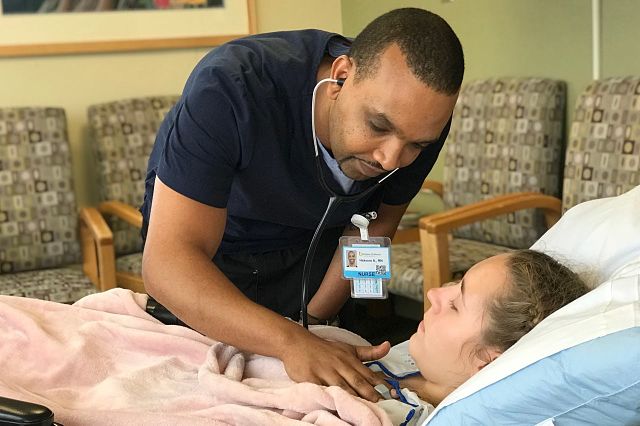 Growing up in Ethiopia, Hakeem Abdulwahab thought only guys like Jean-Claude Van Damme, Bruce Willis and Sylvester Stallone could live the American dream.
"I'd watch Hollywood action movies and see that it's clean here, it's beautiful, everyone has cars," he said. "But America was like a dream country … impossible to get to."
With a little luck and a lot of perseverance, Abdulwahab at 36, has achieved his version of the American dream: Once he scrubbed toilets at one of the top children's hospitals in the country. Now he works there as a nurse.
"If it was cleaning a toilet, cleaning a floor, getting a towel or making a bed, whatever task he was assigned to do at any given moment, he did it with conviction and he did it with heart," said Tammy Sinkfield-Morey, nursing supervisor at Gillette Children's Specialty Healthcare in St. Paul.
"Now he's progressed from one of our lower level positions to one of our most admired positions."
One of eight children, Abdulwahab grew up in Jimma, Ethiopia, about 220 miles southwest of the capital city of Addis Ababa. Abdulwahab helped his father produce and sell coffee, one of the only ways to make money, he said. Business often was fickle, due to a cholera outbreak and the amount of time — 3 to 5 years — it took for Arabica trees to produce fruit.
"We were so poor then," he said. "Some days I didn't eat anything. Basic necessities like food and water were a luxury."
As a teenager, Abdulwahab's parents sent him to live with his older sister in Addis Ababa so that he could attend high school.
On his summer breaks, he learned English with the intention of going to college. When that time came, Abdulwahab couldn't afford college, so he returned home to once again help his family with the coffee business.
"I always hoped to work and send money to my Mom and Dad," he said. "I will sacrifice my life for them."
—
Join the conversation on Twitter and Facebook.