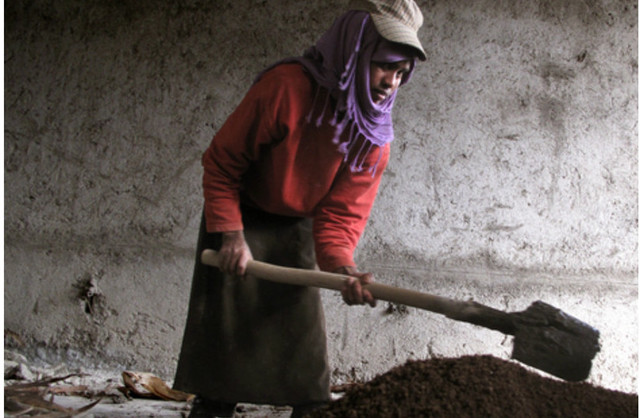 By Gregory Warner
Earlier this summer in the Ethiopian capital Addis Ababa, I heard a complaint from many professionals that they could no longer find cheap house cleaners and nannies.
The apparently endless supply of girls and young women from the countryside who would work for peanuts just for a chance to move to the capital was drying up. It turns out more and more of them are finding work on one of the city's many construction sites.
Unlike her male coworkers, Mekedes Getachew does not wear a hard hat, but instead sports a bright purple headscarf with tassels under a newsboys cap. She says a hard hat is just too heavy.
The 19-year-old Mekedes is one of six women working alongside 60 men at a construction site that will next year be a new wing of a city hospital. She wears a paint-spattered sweatshirt and a skirt over her jeans, a nod to her Orthodox Christian upbringing.
While she typically does lighter jobs like cleaning and shoveling sand, roles on the site are always fluid. She's tackled even the heaviest lifting jobs since she showed up to work as a day laborer at age 15.
Less Than $1 A Day To Start
She was paid 75 cents a day initially; the men were paid $2. She didn't take issue with the salary, reasoning to herself it was because she'd be doing lighter jobs.
But then one day they were mixing cement from bags weighing about 110 pounds, heavier than Mekedes. One of the foremen looked around for someone to haul the bags and his eyes landed on her.
"My boss told me to do it and I did not want him to find out that I'm scared or I did not want him to know that I may not be able to do it," she says.
She needed the job, and it was either haul the bag of cement or haul herself back to Semen Shewa, the tiny village in the north where she was born.
"If I was going to lift it on my own maybe I may not have been able to do it, but the boys are the ones who lifted it and put it on my back, so, I did it," she says. "I carried it … so that gave me the confidence."
Growing up, she never would have imagined herself working alongside men in the open air and climbing scaffolding of raw timber. Girls from her village usually drop out of school by fourth grade to prepare for an arranged marriage.
"My father's plan was to give me a husband. He wanted me to get married and have a family," she says.
Young Mekedes had other plans, however. The first was to finish her education, and for that she needed money. Against the pleas of her father she went to Addis Ababa and, at the age of 11, found work as a live-in maid earning $4 a month.
She looked after three children — aged 6, 8 and 12 — washing laundry, picking them up after class and preparing their lunches.
That meant rising before dawn in the cold to cook injera, a spongy flatbread. In the end it was the cold that got her; she caught pneumonia and the woman of the house kicked her out, withholding six months of her salary, a whole $24. That left her little to take back home to her father.
Listen to the story below.

—
Related:
New Book Highlights Stories of 70 Accomplished Ethiopian Women (TADIAS)
Join the conversation on Twitter and Facebook.