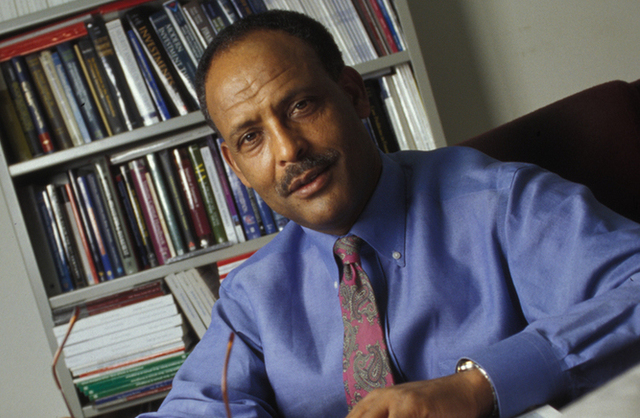 Tadias Magazine
By Tadias Staff
Updated: Monday, August 13, 2012
New York (TADIAS) – Professor Lemma W. Senbet, an internationally recognized leader in finance studies, has been appointed as the new head of the African Economic Research Consortium (AERC) – a Kenya-based non-profit organization that conducts independent research concerning the management of economies in sub-Saharan Africa. Dr. Lemma currently teaches at the University of Maryland, College Park where he also chaired the Finance Department at the Robert H. Smith School of Business.
Dr. Lemma was selected for the AERC position after a worldwide search. Speaking to Tadias about the agency Dr. Lemma stated, "This is an organization which has already achieved immense success in building capacity for research and training to inform economic policies in Africa," noting that his appointment as the Executive Director of AERC comes at a time when a number of countries in the region are enjoying strong economic growth.
"My goal is to lead it to move to the next level of excellence, and I will be embarking on strategies for full global integration of the AERC and its visibility beyond Africa as an organization that is at the cutting edge of best policy research practices," Professor Lemma said. "It is also my purpose to aggressively work on enhancing diversity of global partnership beyond the current generous partners, including the UK development agency, World Bank, Rockefeller Foundation, Gates Foundation, Nordic countries, etc." He added: "It is important that we scale up the partnership of African institutions as well as the private sector engaged at the interface of private and public policy issues, such as governance, risk management, and financial regulation."
Professor Lemma noted that he hopes to emphasize research and finding ways of delivering measurable and credible results for those managing the content's financial system. "In the ultimate, the purpose is to build capacity to do rigorous research and provide training to impact economic policies which help sustain, and even accelerate, the current economic growth momentum in Africa," he said.
On a personal level Dr. Lemma said he feels honored that after an extensive international search, the AERC board has chosen him to serve as Executive Director. "I feel privileged that I am invited to head this premier policy research organization with global reach at this important juncture in the continent," he said. "I cannot ask for better timing."
Professor Lemma will take a leave from his academic position and relocate to Nairobi in Summer 2013.
In a profile highlight that appeared in this magazine in 2004, the Ethiopian native had shared with us then that as a young man he gave up his aspirations of becoming an engineer after hearing news of the opening of a new business school at Addis Ababa University. He enrolled at the business school and graduated with top honors. He went on to acquire a Masters in Business Administration from University of California, Los Angeles, and a PhD in International Finance from State University of New York in Buffalo.
Prior to joining the University of Maryland, he taught at University of Wisconsin, Madison, and was a visiting professor at Northwestern University, University of California, Berkeley, and New York University.
Since then, Professor Lemma has advised the World Bank, the International Monetary Fund, the United Nations, and several other agencies in areas relating to corporate finance, capital market development, financial sector reforms and banking regulation. He has also served as Director of the American Finance Association as well as President of the Western Finance Association. Over the years, Dr. Lemma has sat on the editorial boards of prestigious peer-reviewed publications, including the Journal of Finance, Financial Management, and the Journal of Financial and Quantitative Analysis.
More recently, he was recognized by the Society of Ethiopians Established in the Diaspora (SEED) as a distinguished scholar, teacher and role-model. And he is also a recipient of an honorary doctor of letters from Addis Ababa University, his alma mater.
Regarding his new job, Professor Lemma said he feels positive returning to Africa at this time in history. "Yes, Sub-Saharan African countries have been in what amounts to growth renaissance over the last five to six years," he said. "The growth momentum has been in the same proportion of the Asian Tigers in the 1990s. Just today (August 9), The New York Times reported that seven of the world's ten fastest growing economies are now domiciled in Africa." He continued: "This just reinforces other recent stories, including the highly acclaimed cover story "The Hopeful Continent: Africa Rising" in the Economist (December 2011)."
"Is it sustainable?" we asked.
"That is the big question, "Professor Lemma answered. "On the optimistic side, it should be recognized that the recent dramatic gains are not accidental. They are payoffs to two decades of genuine economic and financial sector reforms, including large scale privatization programs and empowerment of private initiative, as well as improved economic governance." He added: "Moreover, advances in technology and Africa's increased integration into the global economy have fueled the development. Of course, at the center of that is human capital development which is an outcome of capacity building. Thus, on the positive, there are powerful forces that help sustain, and even accelerate the recent gains, and I am pleased that AERC will play a central role in the capacity building front. However, there are threats, particularly the ongoing Euro crisis, given that Europe remains a major trading partner to Africa. The Euro crisis could also affect Africa indirectly through the adverse impact on other trading partners, particularly China which is now the key player in Africa."
Speaking of the "the Euro crisis", what are Professor Lemma's thoughts on the overall global financial crisis and how it may continue to affect African countries?
"Africa surprisingly weathered global crisis better than most regions of the globe in part because most countries have not been fully integrated into the global financial economy," he said. "Those which were experienced immediate declines in stock market performance as well as trade flows, South Africa being among them."
Professor Lemma, however, cautioned that things have stabilized and African economies are back in a growth trajectory. "It should be recognized that Africa is not monolithic but a continent of 55 countries with substantial variation in policies, governance, and reform pace, etc., and the global effects are not uniform," he said. "The resilience to the global crisis is now overshadowed by the current crisis in Europe, and it is in the best interest of Africa (also the world at large) that the crisis be resolved soon."
—-
Related:
Senbet to Head Top African Economic Development Research Organization
Join the conversation on Twitter and Facebook.