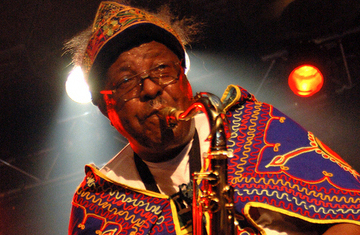 August 14, 2008
The Ex made their Chicago debut in 1994, and I'll never forget it. Guitarists Terrie and Andy (most of the band doesn't bother using last names) bounced around the stage like wayward pinballs. G.W. Sok sang like he wanted to strangle somebody. Drummer Katrin emerged from behind the kit to mesmerize with finger cymbals and a feral voice. The Dutch agit-punks had been recording steadily since 1979, but on this night at the late, great Lounge Ax, they sounded like a new band with something to prove.
The Ex has long been celebrated for its do-it-yourself approach to music-making, its political idealism and self-directed, corporate-free business approach. But at Lounge Ax, none of that mattered. The band simply pinned the audience's ears back. And that's just the way Andy the guitarist says it should be.
"The drive behind everything has been musical curiosity," he says. "We're typecast as this principled political band, but the first impulse for being a band and continuing to be a band is the music. We go into the rehearsal room to make new songs, and we feel like we redefine the band every time. That's exciting. So how we measure success isn't about whether we have hits or we're famous or accepted by the right people, but about whether the music moves us."
That passion has led the band to constantly seek out new avenues of expression. At their inaugural Chicago show, the Ex performed with avant-garde cellist Tom Cora – a combination that shouldn't have worked, but somehow did. Recently the band forged another unlikely collaboration, this time with 73-year-old Ethiopian jazz saxophonist Getatchew Mekuria on a terrific CD, "Moa Anbessa" (Terp). The band's rolling rhythms mesh brilliantly with Mekuria's virile soloing, and the songs push both the punk band and the jazz giant into new territory.
"We'd been listening to Ethiopian music for years, and Terrie and I went over a few years ago because we wanted to make a plan to play there," Andy says. "We found a really old cassette of Getatchew's music in a market, and we contacted him through his label and invited him to play with us at our 25th anniversary show four years ago. It was fantastic. He told a friend, 'I want to play with the Ex band.' It was his idea to get together and record. It was a different tradition than he was used to, but he loved the energy we have."
The Ex had a similar reaction to the saxophonist's music and Ethiopian music in general. Though Western audiences have been exposed to an extent to West African music from Mali, Ghana, Senegal and Nigeria, which has a lighter tone, the music from the eastern side of the continent where Ethiopia lies is less widely known.
"It's very hypnotic, and it shares some similarities with Rasta and Asian music," Andy says. "It's sweet, but there's something snaky about the rhythms. We feel at home playing this music because, without realizing it, we have a similar approach. We create simple parts that interlock and build up to become quite complex and rich, which is similar to the way Ethiopian music works." Read More.