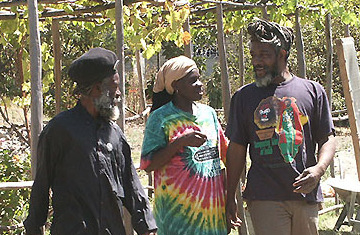 Above: Members of the Jamaican community in Shashemene,
Ethiopia.
By Tim Albone
Published Date: 14 August 2008
Shashemene, Ethiopia – WITH their flowing dreadlocks and blaring reggae music the Rastafarians in Shashemene look slightly out of place.
The beaches and rum bars of the Caribbean are just a distant memory, swapped for the dusty, landlocked streets of southern Ethiopia. Despite the town being crippled by a massive famine, the Rastas, as they are commonly known, insist they are home and happy.
Teddy Dan, 54, who is originally from Oxford and father to 16 children, told The Scotsman: "We are African. It's eight years now, going on nine, since I returned home."
Mr Dan is typical of many of the Rastas who call Shashemene home. A former reggae singer, he became disillusioned with life on the road and the materialistic lifestyle.
He said: "I went to school in England in the Seventies, we were taught all about the slave ships, but I thought there had to be more to this history than they taught in school.
"Coming home (to Shashemene] you see good people stay silent. We need good people to agitate for Africa, in Africa people are suffering more than all."
Another Rasta, Papa Rocky, who has lived in Ethiopia for 30 years, holds a similar view.
He said: "I speak for the oppressed. I've been oppressed all my life, I've been beaten across my loins … I want to be what I am, an African."
In 1947, in reward for their worship, Emperor Selassie gave the Rastas 500 hectares of prime land , 250km south of the capital Addis Ababa.
The first 12 families arrived in 1963, but after the overthrow of the emperor by Mengistu Haile Mariam, a Marxist military leader, the land was whittled down to 11 hectares.
However, the number of families has increased and today there are about 500 families, mainly migrants from the Caribbean, who all call Shashemene home.
The majority of Rastas live a holistic lifestyle, eating only vegetarian food and eschewing alcohol. Controversially, they also believe that marijuana is a gift from God. And their substantial intake of the drug has led to some suspicion from locals in Shashemene, many of whom believe that they have introduced it to their young. Read More.