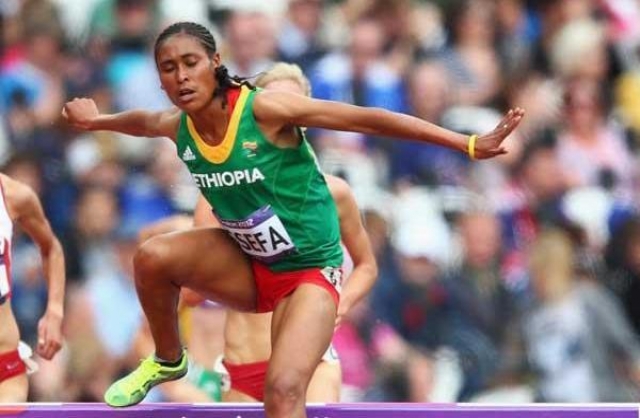 Tadias Magazine
By Sabrina Yohannes
Updated: Thursday, August 15, 2013
MOSCOW (TADIAS) – History was made in Russia's Luzhniki Stadium as an Ethiopian made the podium in the steeplechase at a global championships for the first time ever on July 31, 1980, when Eshetu Tura took the bronze medal at the Moscow Olympic Games. Thirty-three years later, history repeated itself when one of his athletes, Sofia Assefa, also took steeplechase bronze in the same stadium at the 2013 athletics world championships on Tuesday night, becoming the first Ethiopian — male or female — to medal in that race at the biennial event.
"Repeating Eshetu Tura's achievement places me in the history books," said Sofia, who also followed in his footsteps last year in London, when she became the first female steeplechaser from her nation to medal at the Olympics, earning bronze. "I'm very happy, praise God."
Sofia's accomplishment in Moscow was made all the more dramatic after she fell at a jump during the race and recovered to finish in 9:12.84 behind Kenya's African champion Milcah Chemos and national champion Lydia Chepkurui, who ran 9:11.65 and 9:12.84.
With two laps to go, Sofia was comfortably tucked in the lead pack, in fifth place behind the two Kenyans and Ethiopia's All Africa Games runner-up Hiwot Ayalew and Etenesh Diro. "The race was tough … but I was doing well," said Sofia. "I took a running leap and crashed into the hurdle. When I fell, I was very worried, because it's very difficult to fall and get up again. I only had 700m left. The effort you make to catch up costs you a lot of energy."
Sofia was quickly dropped by the leading four runners and overtaken by Kenya's Hyvin Jepkemoi, leaving her adrift in sixth place. "But I just kept going, thinking that I'll leave with whatever God gives me, whatever I get," she said.
She gradually regained contact and resumed her fifth place position at the bell and coming into the final turn, she overtook Hiwot and chased the Kenyan pair down the homestretch, gaining ground but unable to reel in either. "If I hadn't fallen, I think that even if I didn't win, we would at least have finished closer together," she said. "I don't know, maybe I might have been second."
She didn't think she would have beaten Chemos. "She's strong and she always beats me," said Sofia, who has beaten Chemos in one steeplechase race each season since 2009 compared to the nearly two dozen times the Kenyan has bested Sofia. "But I would have stayed with them and fought hard til the very end, and if I had been beaten, I would have been beaten," added Sofia. "But God be praised, this for me is sufficient."
She was still in a slight daze over her fall and eventual outcome when she encountered Ethiopia's newly-crowned 800 meter champion Mohammed Aman in the mixed zone for athletes and media, and he embraced and congratulated her. She started talking to him about her fall and her voice trailed off. "Ayzosh," he comforted her in Amharic. ("It's OK.")
She had just come from the track where she had been handed an Ethiopian flag and congratulated by members of the team who had been on hand to see her medal, including Eshetu Tura and the head national steeple coach Bizuneh Yaye, though neither she nor they had brought up Eshetu's Moscow bronze. "I didn't think of it at the time," she said. "But both of them were there, and they're very happy." Upon being reminded of the decades-old historic achievement she'd emulated in the same city and stadium, she added, "Even though it's with another bronze, it's great that it was repeated."
Eshetu also earned a steeplechase silver medal representing Africa at the 1977 International Association of Athletics Federations' (IAAF) World Cup, a continental team competition that was a predecessor to the current IAAF Continental Cup, in which both Sofia and Ethiopian men's steeplechaser Roba Gari medaled for Africa in 2010, he with a silver and she with another bronze. (The competition is not, however, seen as a global championship in the same sense as the Olympics or world championships.)
In the season leading up to her Moscow bronze, Sofia had five podium finishes in the IAAF Diamond League series of one-day competitions. Prior to emulating Eshetu's Olympic feat in London last year, she had four. "I had high expectations because I had run well in the Diamond League," said Sofia, who had run her personal best and Ethiopia's national record 9:09.00 in the Oslo Diamond League meet on June 7, 2012 behind Chemos' 9:07.14 African record. "The whole time I was running [at the London Olympics], I was thinking about medaling," said Sofia. "I may not have had the confidence to be first, but I thought I might place second or third."
After the Olympics, she arrived in Ethiopia without fanfare. "I didn't return with the team," she said. "I had races scheduled and I went straight to the site of a race from London. I saw the team's homecoming reception in Addis Ababa on the internet and it was nice. As I didn't even [finish my race] in Stockholm, I wished I had gone back with them."
She received plenty of praise from Ethiopia's only other Olympic medalist in her event , Eshetu, and her other coaches, including former steepler and 1980 Moscow 5000m runner Yohannes Mohammed. "The coaches are great," she said. "They were very happy. They always encourage me, telling me I can run even better."
A year after London, Sofia has indeed increased her global medal tally, and made her mentors proud. Coming into Moscow, she had hoped to reach a higher step on the podium, and that future hope remains. "I have bronze," she said. "I believe I have to put in my effort to, God willing, achieve something better — be it silver or gold."
—
Related:
Ethiopia Celebrates Highest Ever World Championships Medal Haul in Moscow
Join the conversation on Twitter and Facebook