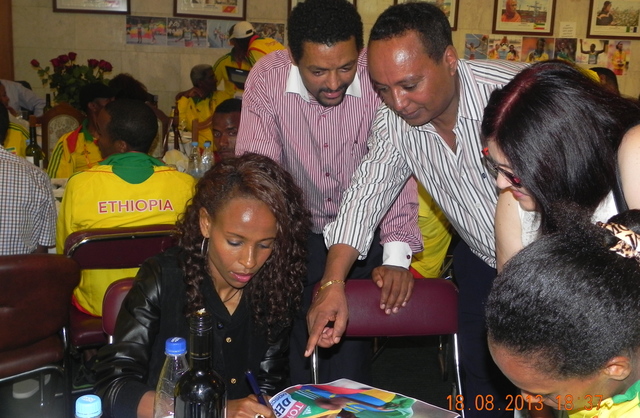 Tadias Magazine
By Sabrina Yohannes
Published: Tuesday, August 20th, 2013
MOSCOW (TADIAS) – Ethiopia collected its highest medal count ever at the 2013 Moscow world championships in athletics, earning ten medals, three of them gold. The next highest was nine medals, three gold, earned in 2005 in Helsinki, when Tirunesh Dibaba won the 10,000 and 5000m, with Meseret Defar taking 5000m silver. In Moscow, Tirunesh won the 10,000, while Meseret took the 5000, and Mohammed Aman's 800m gold was Ethiopia's first medal over the distance at any global championships.
"This year's world championships was great," said Meseret Sunday evening at a reception in the team's honor at the Ethiopian embassy in Moscow, where local residents and Ethiopians who had come to the championships from abroad feted the athletes and spent an evening mingling and dancing to traditional music with them. "This is my second time coming to Russia," added Meseret. "I was here for the world indoor championships. There was the same kind of reception at the embassy and we had a wonderful time, and they've held a great feast for us again today and we are grateful."
Meseret will compete over 3000m on Thursday in Sweden. "I'm leaving tomorrow for Stockholm," she said as she departed ahead of her teammates, many of whom remained dancing the evening away. "It'll be my third Diamond League race [of the year], and I'm going to try to obtain good results." She is scheduled to be challenged by Moscow 5000 and 10,000m silver medalists Mercy Cherono and Gladys Cherono of Kenya as well as Tirunesh's sister Genzebe. After beating Meseret over 5000 in Shanghai this season, Genzebe had hoped to contest the 5000 in Moscow but was entered in the 1500 and placed eighth in the final.
Belaynesh Oljira and Almaz Ayana took bronze behind Tirunesh and Meseret, and the London Olympic women's steeplechase bronze medalist Sofia Assefa earned the same medal in Moscow. Ethiopia took silver in the men's 10,000 and 5000m via the 2011 champion in the 10,000m Ibrahim Jeilan and the reigning world junior world cross country champion Hagos Gebrhiwet. Lelisa Desisa and Tadese Tola took the minor medals in the men's marathon.
Athletes who had competed in the first few days of the championships had already left for Ethiopia, but of those present at the embassy affair, Meseret, Mohammed and the marathoners were a huge hit, signing autographs, posing for pictures and chatting with well-wishers in a hall decorated with images from around Ethiopia as well as posters put up on the day, commemorating the achievements attained in Moscow's Luzhniki stadium in the preceding eight days. "It feels like you are in Ethiopia," said the world indoor champion Mohammed, who did his fair share of dancing. "It's wonderful that they've invited and honored us this way."
"At these championships, we've performed at a higher level than in the past," said the national federation's technical director Dube Jillo. "As you know, nothing can be achieved without effort. The Ethiopian athletic federation laid out extensive objectives and has been preparing extensively, including in the arena of discovering new athletes. In addition, the federation has concentrated on the development of athletes."
Belaynesh, Almaz, Lelisa and Tadese are first-time medalists at a senior global championships, although Almaz is a former junior world medalist in the steeplechase and Tadese has placed in the top ten at cross country and road world championships.
The titles of the three-time Olympic champion Tirunesh and two-time Olympic champion Meseret's titles, however, were considered a done deal before the team even landed in Russia.
A poem presented at the embassy reception reflected those expectations and the many emotions the community shared, invoking the name of the legendary 1980 Moscow Olympic double gold medalist Miruts Yifter as a hero who introduced Muscovites to the sight of Ethiopians crossing the line victorious, and Tirunesh as the "10,000m queen" who demonstrated her inclusion in the same rare company. The would-be poet, Moscow sales and marketing executive Sisay Kifle, continued by describing Mohammed "taking flight and leaving all behind, and delivering unaccustomed victory" and the 2006 Moscow world indoor champion Meseret as someone of whom "all of the nation of Russia" knows "the 5000m belongs to her alone."
—
Join the conversation on Twitter and Facebook