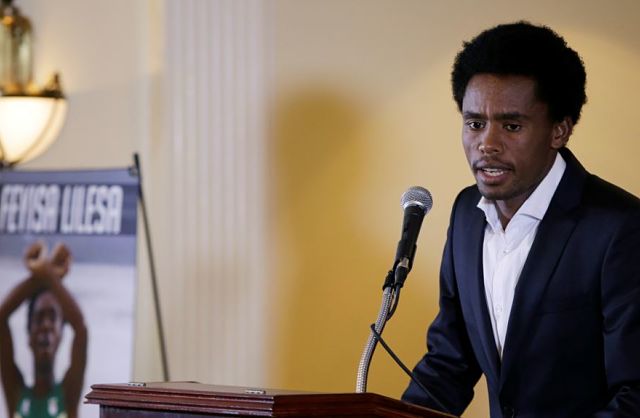 Voice of America
By Salem Solomon
Olympian in Self-Imposed Exile Will Return to Ethiopia
After winning the silver medal in the men's marathon at the 2016 Olympic Games in Rio de Janeiro, Brazil, Feyisa Lilesa spent two years in self-imposed exile in the United States. Now, he's returning home.
Feyisa will return to Ethiopia in the coming weeks with his wife and children after two athletics groups notified him that he would receive a hero's welcome upon arriving.
Ashebir Woldegiorgis, the president of the Ethiopian Olympic Committee, told VOA Amharic that the call for Feyisa to return is meant to better the country.
"He can teach his exemplary ways to other athletes and teach strength to our youngsters. That's the main call, so he can come back to participate in the sport he loves and pass it on by running and by advising to elevate Ethiopia's sport," Ashebir said.
Show of protest
Feyisa made international headlines when he raised his crossed wrists above his head at the finish line, and again on the podium, at the 2016 summer games.
—
Related:
In Pictures: Feyisa Lilesa's Daring Protest Reminiscent of 1968 Olympics
Washington Post Interview With Feyisa Lilesa
From Rio to America: Olympian Feyisa Lilesa's Washington Post Op-Ed
Olympian Feyisa Lilesa Arrives in the U.S.
Olympian Feyisa Lilesa Shows Solidarity With Protesters in Ethiopia at Rio Games
Silver medalist Feyisa Lilesa shows solidarity with protesters in Ethiopia
Ethiopian runner makes protest sign as he crosses line in Rio
Join the conversation on Twitter and Facebook.