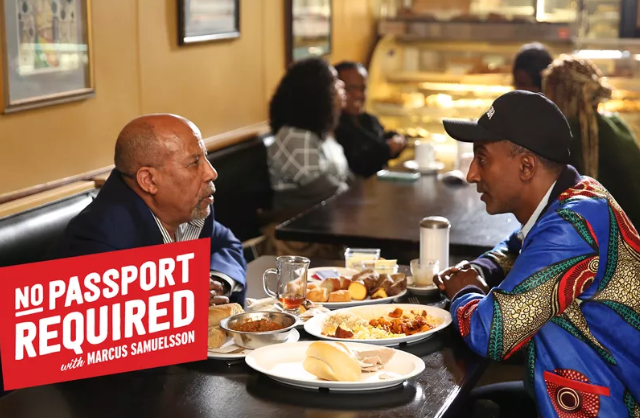 Tadias Magazine
By Tadias Staff
Published: August 16th, 2018
New York (TADIAS) — The season finale of Marcus Samuelsson's PBS show, No Passport Required, aired on Tuesday, August 14th featuring Ethiopian food and culture in Washington D.C. The full episode highlighted the inspiring stories of Ethiopian entrepreneurs as well as how to make traditional dishes such as kitfo and ful, and eskista dancing.
Zenebech, who started her injera business as a newly arrived refugee in the United States, invited Marcus into her kitchen and they make the hearty lamb dish of tibs as she recounted the early days of her entrepreneurial journey and then later launching an Ethiopian restaurant in 2010.
The Public Broadcasting Service (PBS), one of the largest television program distributors in the United States, premiered Marcus Samuelsson's new show No Passport Required on July 10th, 2018. As host of No Passport Required Restaurateur, Chef and Author Marcus Samuelsson highlighted food, art and culture in immigrant communities across America — from Little Kabul in Fremont, California to the Vietnamese shrimpers in Louisiana, and the Indo-Guyanese community in Queens, New York.
"Chasing flavors has been my lifelong passion," shared Samuelsson in recent press release. "To now be able to bring viewers on that journey with me to these amazing communities in cities across the U.S. is truly a dream come true. We get to go deep into the markets, pull up to the roadside stands, and be welcomed into homes — all the places where people share and celebrate food together."
No Passport Required is produced by Vox Media in collaboration with PBS.
Watch a preview of the Ethiopian community episode of No Passport Required below:
To watch the full season finale episode featuring the Ethiopian community in Washington D.C. click here.
—
Related:
PBS and VOX Media Announce New Series Hosted by Chef Marcus Samuelsson
Join the conversation on Twitter and Facebook.