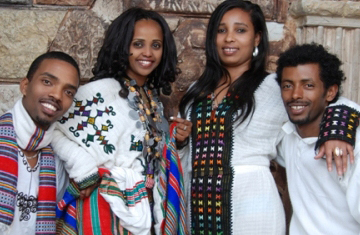 Above: Debo band's upcoming U.S. tour highlights Fendika, a
traditional Azmari group from Ethiopia. (Courtesy photograph)
Tadias Magazine
Events News
Published: Wednesday, August 18, 2010
New York (Tadias) – Debo Band, the Boston-based jazz collective which focuses on Ethiopian grooves, is gearing up for a U.S. debut tour featuring Fendika, a group of traditional Azmari artists from Addis Ababa.
Debo Band's expanded 14-piece project will tour select American cities, including New York, Philadelphia, Boston, Richmond (VA), Chicago, and Milwaukee with expected highlight stops at the Chicago World Music Festival and NYC's Joe's Pub.
The band's Ethiopian-American founder Danny Mekonnen said the concert has been a long-time coming. "Ever since we first worked with Fendika in Addis, we've wanted to share this collaboration with U.S. audiences…they are incredible folk performers who do what few have seen in this part of the world," Danny said. "We also wanted the chance to host them in our country as they did in theirs."
Fendika's group leader Melaku Belay – the traditional dancer who accompanied saxophonist Getatchew Mekurya and the Dutch band the Ex at the historic 2008 outdoors show at NYC's Damrosch Park – "has established himself as the top dancer in Ethiopia with more than 40 international concerts in the last three years, including performances at Chicago's Millennium Park and New York City's Lincoln Center," the band said in a press release. "One of the most active artists on the Addis Ababa scene today, Melaku is an ardent supporter of Ethiopia's diverse musical traditions and a savvy cultural entrepreneur who manages his own nightclub and is developing his own institute for the arts."
This tour is supported by two new releases by Debo Band: Adderech Arada, the group's first 7-inch vinyl record and Flamingoh (Pink Bird Dawn), their first EP. The live recording featured on Flamingoh documents the brief period around Debo Band's trip to East Africa in Winter 2010, with performances from Sauti za Busara, Club Alize in Addis Ababa, and the Western Front in Cambridge. They also have a documentary, featuring their escapades with Fendika in Ethiopia and Zanzibar, and a full-length live album on the way.
"Fendika's arrival marks a new chapter for us. I think our fans are going to get a kick out of the dancing, traditional singing and drumming, and we can't wait till Fendika get here to begin working with them once more," Danny said.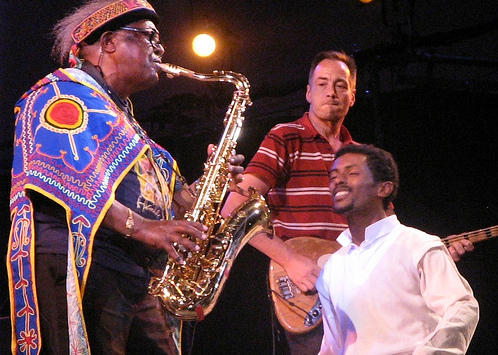 Melaku Belay with Getatchew Mekurya (Wednesday, August 20, 2008. Damrosch's
Park, New York City. Photograph by Trent Wolbe / Tadias magazine events file image)
Video: Sauti za Busara 2010: Debo band

Related from Tadias Archives:
Video: Interview with Debo band founder Danny Mekonnen at L'Orange Bleue – NYC (2009)