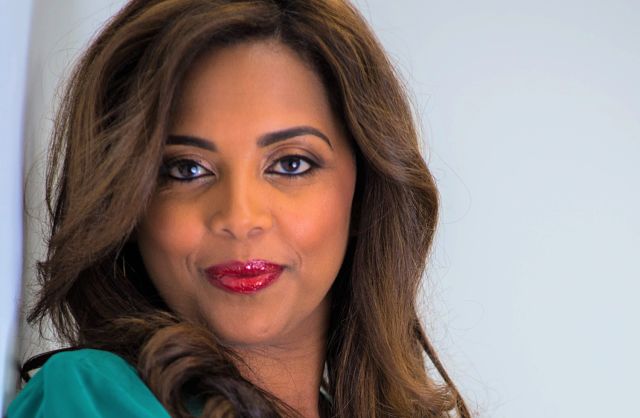 Tadias Magazine
By Tadias Staff
August 19th, 2017
New York (TADIAS) — Helen Mesfin from the popular Helen Show on EBS TV is launching a trailblazing annual event entitled "Empower the Community" in Washington, D.C., combining her broadcast experience with her professional work in the hospitality industry, and creating a space for community members to participate in panel discussions as well as provide resources and information for families. The event is scheduled to be held at the DC Convention Center on Saturday, August 26th, 2017.
Panel discussion topics include "The Power of Civic Engagement" featuring Menna Demissie, who is Vice President of Policy Analysis & Research at the Congressional Black Caucus; Henock Dory, former White House Policy Advisor for the Obama Administration's Office of Public Engagement & Intergovernmental Affairs; and Yodit Tewolde, criminal defense attorney, former prosecutor, and legal analyst. Additional speakers include Dr. Senait Fisseha, MD, JD Professor of Obstetrics & Gynecology and Director of International Programs at the Susan T. Buffett Foundation; and Dr. Debrework Zewdie, Distinguished Scholar at CUNY Graduate School of Public Health and Health Policy.
"Empower the Community Weekend is a groundbreaking new event that will bring together the largest East African community in the Washington D.C. Metro Area," Helen says. "The event provides panel discussions, entertainment, empowering information on education, career, arts, finance, health & wellness, giveaways and much more." She adds: It's focused on providing resources and family centered activities. We will have various pavilion and activities engaging families with information they need to live productive lives and thrive."
Helen says the program will also include kids corner with activities such as "reading time, games, fun exercises, art and a booth by D.C. United Soccer Clinic.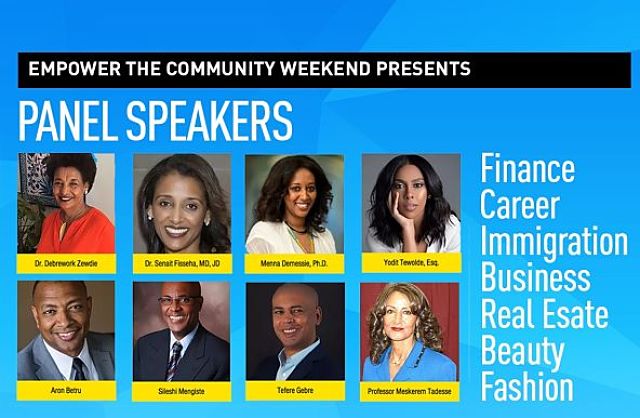 Empower the Community Weekend will be launched Saturday August 26th, 2017 by the producers of Helen Show on EBS TV. (Courtesy photos)
Here is a summary of parts of the program on August 26th from 11am-7pm at the Washington Convention Center
Empower Youth: follow your passion. Actress Azie Tesfay; Director/Producer Messay Getahun; Author Michael Asmerom, and Graphic Designer Heli Amare.
Business Leaders Panel: Getting To The Top: Strategies for breaking through the glass ceiling with successful Ethiopian American business leaders. Tefere Gebre, Executive VP AFLCIO, Meskerem Tadesse Director of Center for Minority and Business and Professor of Business Administration and 2 more to be announced next week.
Health & Fitness Pavilion:
Free health screenings provided by Kaiser Permanente, American Kindy Fund, Silver Spring Smiles & Pearl Smiles Dental – BMI, blood pressure, blood glucose, dental screening, fitness consultants, zumba, resources for families with special needs, giveaways and much more. Partner organizations and sponsors are Kaiser Permanente, American Kidney Fund, Ethiopian American Nurses Association, Silver Spring Smiles & Pearl Smiles as well as Ethiopian American doctors.
Career Pavilion:
Hear high energy career motivational speakers. Learn career advancement tips. Participate in informational interviews. Receive mini career coaching. Assess your career aptitudes. Partner organizations include 21st Century Community, YEP – Your Ethiopian Professionals, Alexandria Workforce Development and MBC.
Finance Pavilion:
Topics covered include raising money savvy kids, financial responsibility, creating generational wealth, dealing with college debt, getting your credit right, securing your family's financial future, and home buying 101. Partner organization are Primerica, CLRA group and Your DMV Team.
Immigration and Legal Issues with Attorney Yemmi Getachew & Hellina Hailu
Fear NOT, Know Your Rights as Immigrants – 11am
Surviving the Stop – How to Engage with Law Enforcement 1:00pm
Teaching Kids & Young Men What to Expect and Know
Warrior Moms – Special Needs Parenting
Leah Tesfa, Birollei Debela and Salem Hagos
Entertainment
Wayna, Ras Nebiyou, Ethiopian Traditional Band, Abel Dureyew, Comedian Gergish and more.
Vendors at the event will also be selling various artisan merchandise
—
If You Go:
Saturday August 26
11am -7pm
Walter E Washington Convention Center
801 Mt. Vernon Place, NW
Washington DC 20001
www.empowercw.com
Join the conversation on Twitter and Facebook.