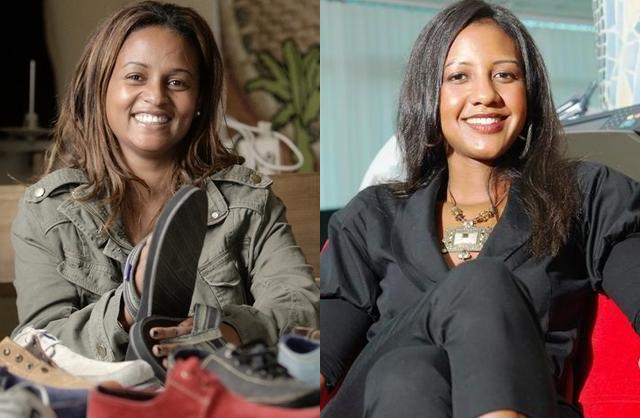 Tadias Magazine
By Tadias Staff
Saturday, August 20, 2011
New York (TADIAS) – Forbes magazine's contributing writer, Mfonobong Nsehe, who chronicles Africa's success stories, has come up with a list: 'The 20 Youngest Power Women In Africa.'
Among them are Ethiopian Bethlehem Tilahun Alemu and Kenyan-American Isis Nyongo — two dynamic business leaders whose work has previously been highlighted in Tadias Magazine.
"Of course, this is by no means an official or an exhaustive list," the writer notes. "But these are 20 women, all under age 45, who wield enormous influence in African business, technology, policy and media. They are change makers, trendsetters, visionaries and thinkers, builders, and young global leaders. They are at the vanguard of Africa's imminent socio-economic revolution and its contemporary renaissance."
Bethlehem Tilahun Alemu, the Ethiopian-born entrepreneur was recently named the 'African Businesswoman of the Year' by African Business Magazine, a leading pan African business publication. She is the founder of Sole Rebels, a brand of eco-friendly shoes and sandals made in Ethiopia. She was also named a Young Global Leader by the World Economic Forum earlier this year.
Isis Nyongo is the Vice President and Managing Director of InMobi, the world's largest independent mobile advertising network. Prior to her appointment earlier this year, Isis served as the Business Development Manager for Google's operation in Africa. She spearheaded mobile partnerships and played a pivotal role in the development of Google's content strategy in Africa. Tadias interviewed Isis in 2005, when she was a graduate student at Harvard Business School and co-chair of the Africa Business Club. "After graduation from Harvard Business School I want to focus my work in the marketing role with a view of moving back to Africa within 2-3 years," she told us. We are not surprised that since then Isis has become one of the continent's young leaders in her field.
We congratulate both Bethlehem and Isis on their accomplishments.
–
(Cover Photo credit: Bethlehem courtesy of SoleRebels, Isis by Leon Muli)
Related:
Bethlehem Tilahun Alemu on Blog Talk Radio on September 3rd
In Pictures: Power Women, Power Moms (Forbes)
Join the conversation on Twitter and Facebook.