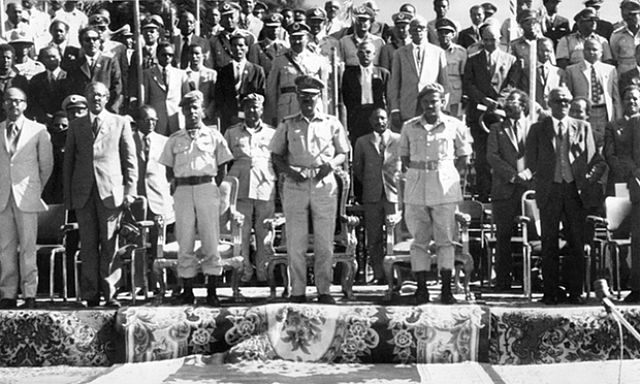 By David Ottaway
Monday 24 August 2015
Addis Ababa, August 23, 1974
They are crowded into three long army barracks, sleeping on simple army cots, their heads shaven as if they are condemned men, their food brought to them three times daily by wives already dressed in black for mourning.
These were once the high and mighty of Ethiopia – princes, imperial courtiers, provincial nobility, aristocratic landlords, blue-blooded ministers, and much decorated generals. They ruled entire provinces, owned enormous estates, and commanded private armies and could boast of belonging to royal families tracing their ancestry 2,000 years to the founding of the Ethiopian monarchy.
Today they are the humbled captives of young and unknown military officers, members of a mysterious Armed Forces Committee that has set out to bring revolution to this ancient mountain kingdom of feudal lords and a once all-powerful Emperor.
Officially these prisoners of the revolution number only around 150, but it is said the total number of those arrested is about 350.
The fallen aristocrats are being kept in rundown buildings near the city centre that serve as the Fourth Army Division's headquarters. Three times a day the road outside the compound is the scene of traffic jams as families come with food and messages (the army will not feed the prisoners).
Their crimes, according to the military, include corruption, abuse of power, maladministration and misappropriation of State funds and lands, a cover-up of the disastrous drought afflicting the country, and, above all, obstruction of badly-needed reforms.
Their fate is uncertain. Theoretically, the prisoners are awaiting the outcome of an investigation by a 15-man committee of inquiry into the alleged misdeeds of the old regime, a process expected to take two years.
But relatives of the prisoners feel they have become hostages of the military committee and that they will be the first to die if any attempt is made by Emperor Haile Selassie to overthrow the reform movement.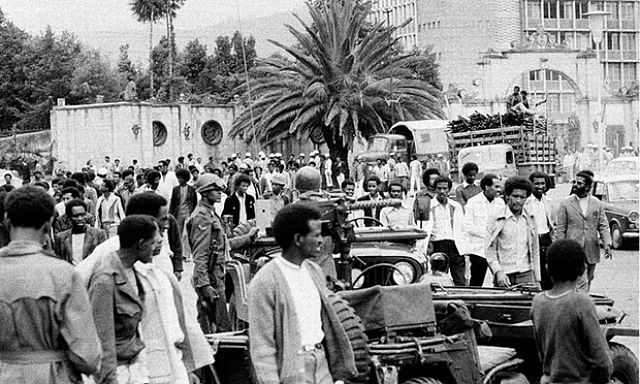 Students protest in Addis Ababa, Ethiopia, September 17, 1974, against the military committee that seized political power last week. (Photograph: AP)
—
Join the conversation on Twitter and Facebook.