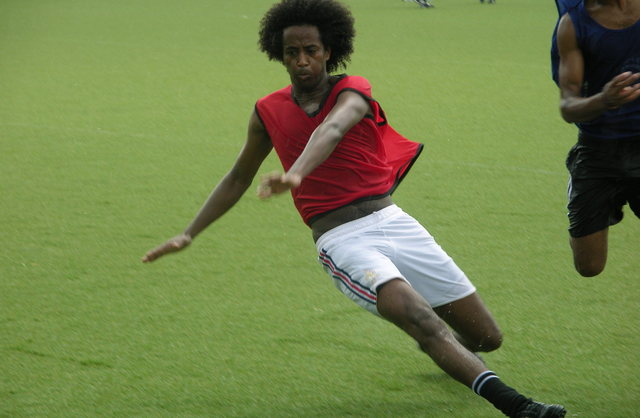 Tadias Magazine
By Jason Jett

Thursday, August 25, 2011
New York (TADIAS) – Perhaps it comes with the turf — given the city's many success stories — that the New York Abay soccer team believes it should dominate the competition.
So a loss last month in the semifinals of the annual Ethiopian Sports Federation in North America (ESFNA) soccer tournament, this year held in Atlanta, has leaders of the New York squad assessing how to better represent their world-capital city.
"We also finished in fourth-place in the Africa Cup last spring," said Coach Binyam Tsehaye, referring to a March tournament in Macombs Dam Park at the New Yankee Stadium that fielded local teams representing 12 nations. "We seem to be always finishing fourth. We need to be finishing first. We want to represent our community better."
Towards that goal the team has launched a recruitment drive focusing on New York and New Jersey youths unaware of the opportunity to continue participating at a highly competitive level in the sport they or their fathers grew up playing in Ethiopia.
New York Abay was formed in the late 1980s. Some of the original members now provide management and mentoring services, while the active players have participated for a decade or less.
Aman Tsehaye, like his brother Binyam a resident of West Orange, N.J., has lived in the area since 1989 but did not learn about the local Ethiopian soccer team until 2002. He joined immediately.
Aman Tsehaye noted the team has lost membership as older players started their own families and found they no longer had time for the sport. Several members were lost when their jobs were relocated to Virginia, he added.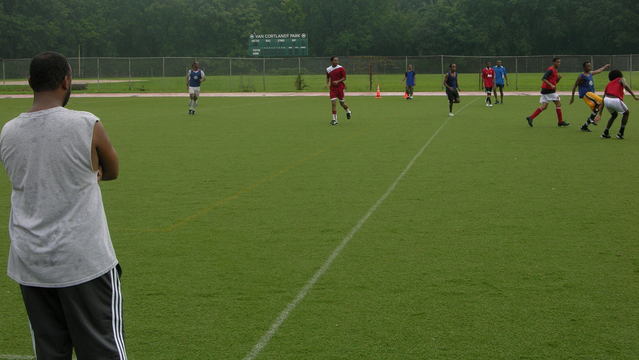 Coach Binyam Tsehaye views the action, interjecting instruction, advice and reminders to be prepared for physical play during a New York Abay training at the Van Cortland Park Stadium on Sunday, August 21, 2011. (Photo by Jason Jett for Tadias Magazine)
In addition to the new youth movement the Tsehayes stressed that New York Abay, named for the Blue Nile River originating at Lake Tana near the Great Rift Valley of Ethiopia, seeks veteran, experienced players.
"There are a lot of former stars in Ethiopia now living in the New York area," said Binyam Tsehaye. "We see them occasionally, at restaurants or events. It would be good to have them on the team. They don't have to play every game, just two or three times a year.
"With all the pros in the area we should have one of the best teams," he added "But you have to understand the pressure they are under to support family here and back home."
Of course some of those same pressures are felt by current team members, several who work odd jobs or attend school and find it taxing to participate in the team's Sunday- morning practices at Van Cortlandt Park in the Bronx.
Samuel Tesfaye, a defenseman who resides in Manhattan, noted New York City itself is a challenge for a soccer squad.
"Competition is a way of life in New York," he said. "It is not easy to play soccer in city parks, every place is so crowded. It's difficult to find a spot you don't have to pay to use, so we end up having to go to the Bronx. Other teams have an easier time in their communities, but in New York you have to apply and pay a lot of money to get a good field."
And it can get less hospitable when the team leaves the city for a competition.
Tesfaye said New York Abay typically finds itself in an hostile environment while playing at so-called neutral sites.
When it lost 0-2 to Virginia in the July 6 ESFNA semifinal game at the Georgia Dome, most of the crowd was cheering for the opposition.
"You know how it is," he said. "In other cities everyone loves to hate New York."
Tesfaye and other team members said they suspect it was not only the fans in the stands who were against the New York team during the tourney in Atlanta.
"In the Virginia game the referee was a teenager, who had been a linesman in previous games," said Tesfaye "At most he was 18 or 19 years old, and we thought that was an issue. The referee was very young, had no experience and was afraid to make tough calls."
Tesfaye said the referee failed to whistle two hand-ball violations by the opposition, one as Virginia scored a goal on a header and the second after New York Abay moved the ball into the penalty box threatening to score a goal of its own.
"In Atlanta, unfortunately it did not turn out our way," Binyam Tsehaye said. However, he is upbeat about the team's chances in a regional soccer tournament to be held at Pier 40 in New York City on Sept. 4.

During a break in activity Fitsum Kahsay, one of the youngest members of the team, leaves practice early to accommodate his school schedule. (Photo: At the Van Cortland Park Stadium on Sunday, August 21, 2011. By Jason Jett for Tadias Magazine)
"We have a lot of young kids who have been playing together for a few years now and are jelling," he said. "I think we can do well in this tournament. We are going to go out there and do our best. We want to represent our community better."
Coincidentally, Sept. 4th is the final day of the World Championships in Athletics in Daegu, South Korea, with Ethiopian legends Kenenisa Bekele, Sileshi Sihine, Imane Merga, Gebregziabher Gebremariam and Sofia Assefa expected to compete that morning.
Binyam Tsehaye and Tesfaye do not see soccer, or football as it is known universally and among Ethiopian fans who crowd in living rooms and taverns for every broadcast of the national team or the English Premier League, taking a backseat to running.
"Football is the No. 1 sport in Ethiopia," said Tsehaye. "Runners are more famous, but we all say that football is our national sport. We just are better at running compared to the rest of the world."
"This is a team sport," he said of football. "There is always more satisfaction winning as a team than as an individual."
For New York Abay members the rewards are chiefly measured in personal satisfaction and camaraderie.
"It's about bragging rights," said Tesfaye. " There is some money. The winner of the tournaments gets a monetary prize and trophy."
Teams members did not hesitate to say they see no reason why they should not be the ones claiming the awards at the end of the upcoming Pier 40 tournament.
–
Prospective members are welcome to attend a team practice 11 a.m. Sundays at Van Cortlandt Park in the Bronx, N.Y. The sessions are held in the Van Cortlandt Park Stadium at Broadway and West 240th Street, or in soccer fields north of the stadium.
More photos of the New York Abay team on our new Facebook Page. (Click Here)
Learn more about the Sept. 4th games hosted by Downtown United Soccer Club.
Related:
Arsenal takes look at Gedion Zelalem, a 14-year-old Ethiopian-German living in DC – The Washington Post