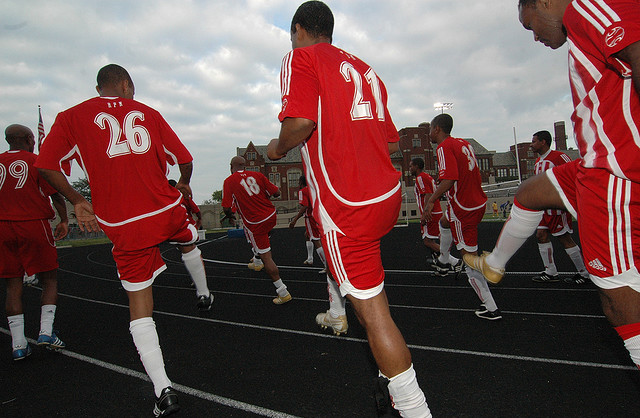 Tadias Magazine
By Jason Jett

Updated: Saturday, December 24, 2011
New York (TADIAS) – After near dissolution, the 28 year-old non-profit, Ethiopian Sports Federation in North America (ESFNA), recently held elections for new leadership. The organization was steeped in disputes for the past 15 months prior to the current resolution.
On December 11th a newly elected board announced that the organization's annual summer soccer tournament and cultural festival would be held in Dallas, and noted that the upcoming guest of honor will be a sports figure from Ethiopia.
ESFNA's executive board decision to rescind an invitation to former Ethiopian Judge and opposition leader, Birtukan Mideksa, in October 2010 initiated the disputes. Judge Mideksa had been chosen by the ESFNA board as a guest of honor for its July 2011 event, but internal strife ensued over whether the invitation was appropriate or not. The controversy escalated as resignations followed amid public criticism, including accusations of corruption and malfeasance. Ultimately an invitation was extended to Judge Mideksa and the tournament went on as scheduled in Atlanta albeit under a cloud of threats of boycott by several groups as well as calls for new elections.
"As most that follow ESFNA know, 2011 was a difficult year for the organization because of some decisions that it took or did not take during and following its annual October meeting in 2010 regarding a guest-of-honor selection," read an official statement from the organization. "All in attendance knew this was a special meeting where all differences were going to be placed on the table and discussed so that the organization could identify mistakes it committed, learn from its mistakes and place safeguards not to repeat it. It was understood that after the discussion we will be united, and go forward even stronger than before."
The tournament, and the ESFNA itself, was salvaged during a three-day meeting of the organization's board in Northern Virginia. The board elected Getachew Tesfaye of the St. Michael football club in Maryland as the new president of ESFNA, and likewise installed a new treasurer and business manager.
"There have been questions about our political views," Tesfaye said when the tournament-site selection was announced after months of delay. "This is a soccer federation. We do not discriminate based on political party, religion or tribe. If you serve the interests of Ethiopia, you are welcome to our tournament."
Dallas was selected as the 2012 host over Seattle, Las Vegas and Denver, which also submitted bids to host the event. The new president told Tadias Magazine that Denver's hosting proposal was nearly as persuasive as the one selected, but a down economy influenced the decision to return to Dallas a fourth time.
"We have not held a tournament in Denver yet, and did not want to take a chance amid the current financial situation," he explained. "All tournaments held in Dallas have been well-attended by the Ethiopian community. Also it is central, and many teams and people can drive to Dallas. We took all that into consideration."
Also in acknowledgement of the weak economy, the 2012 venue — a stadium in Addison, a suburb of Dallas — is significantly smaller than the 2011 site, the Georgia Dome in Atlanta.
Regarding the guest of honor, Tesfaye said two prominent sports figures are being considered and an announcement is expected early in the new year.
Yohannes Berhanu, the new Public Relations Officer of ESFNA, said there is hope that internal divisions are now laid to rest, and that the organization will be viewed as a sports and cultural entity moving forward.
"The ESFNA was never into politics," he said, while acknowledging the appearance of influence by big money. "The problem is interest groups or sponsors give some tendencies that goes this way or that way — like the big donors, or when we rally against what happens in Ethiopia."
"In Atlanta there was a tribute to people who had been massacred," he said. "That was human rights, something any human would do. We were with the people, but not on any side. We are not political, we have to accommodate everyone."
Addressing guest-of-honor selections, Berhanu added, " It could be anybody who does something big, like donate $240,000 [Sheikh Al Amoudi, who has donated to ESFNA, was a 2002 tournament guest of honor] or Judge Birtukan Mideksa. We wanted to recognize her for standing up for herself."
"We are all Ethiopians. We came here and started the federation with four teams, and now there are 29 teams. People with political ties want to bring their own identity and go forward with that. That has nothing to do with ESFNA."
The sport federation was formed in 1984, and the first annual tournament was held that year in Houston. Berhanu likened the federation's inclusiveness to that of community groups.
"When they started this thing, they never thought it was going to become this big," Berhanu said. "But wherever Ethiopians are, they love the sport, culture and getting together." He added: Like a church or a community organization, we open our doors to everybody. Everybody comes with their own agenda."
Of the athletes, he noted some are former members of the Ethiopian national team and are well-known and highly regarded.
"They are known not only for what they do in the soccer field, but in bringing people's spirits up," he said. "They are like Haile Gebrselassie. The players do a lot for us. People feel homesick, and the players are getting them together and giving them sports. It keeps them going."
"We should be all working for the same goal," continued Berhanu. "We have a country that needs our help and a community which needs our support. Otherwise, we will not grow as quickly as other communities."
—
Related:
The New York Abay Team: Soccer With an Empire State of Mind