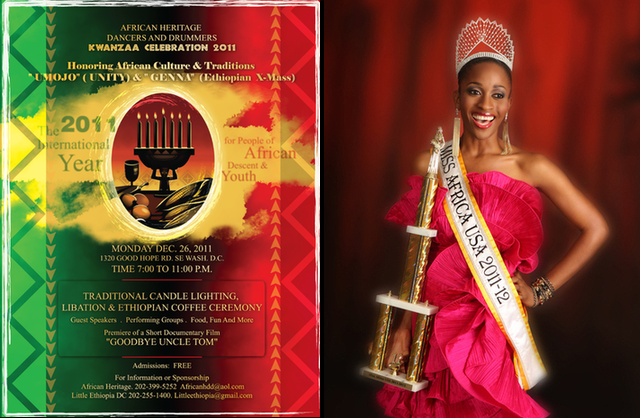 Tadias Magazine
Events News
Source: Little Ethiopia DC & African Heritage
December 24th, 2011
Washington, D.C. – Little Ethiopia DC and African Heritage is pleased to announce the 8th annual joint holiday celebration of Genna (Ethiopian X-mass) and Kwanzaa, a nonreligious holiday honoring the legacy of African American life, to be held on Monday, December 26th in Washington, D.C.
This year's activities include a special appearance by the current Miss Africa USA, Ghyslaine Tchouaga of Cameroon, and traditional performances by the African Heritage Dancers and Drummers, as well as food, drinks, music and a candle lighting ceremony. Almaz Tilahun from Ethiopia will perform the Ethiopian Coffee Ceremony while Thomas an African American trained dancer will perform the unique traditional Ethiopian shoulder dance "Iskista."
Kwanzaa is a week-long celebration with each day of the week dedicated to one of seven principles: Umoja (unity); Kujichagulia (self-determination); Ujima (collective work and responsibility); Ujamaa (cooperative economics); Nia (purpose); Kuumba (creativity); and Imani (faith). All are based on values prevalent in African cultures. "The objective of the event is to establish unity and a working relationship among two diverse communities – Ethiopian and African Americans – whose long relationship dates back to 1808 with the establishment of the Abyssinian Baptist Church in Harlem, New York. Formal diplomatic relations between Ethiopia and America commenced in 1903.
When the fascist Italian military power occupied Ethiopia in 1935 during World War II, to avenge its defeat 40 years earlier in Adwa, the African American community in Washington DC, New York and other cities organized in large numbers to raise funds in defense of Ethiopia. In his 1954 visit to the United States, Emperor Haile Selassie expressed his gratitude for the support given by the Black community to the people of Ethiopia in their heroic battle against the Italian occupation.
The Emperor invited two Washingtonians, Duke Ellington, the jazz king who grew up in the Shaw/ U Street neighborhood and Professor Leo Hansberry who started the first African Studies department in Howard University. Hansberry collaborated with Dr. Melaku Beyan, the first Ethiopian to graduate from Howard University in creating the African Studies department. The Emperor gave both Ellington and Hansberry the Ethiopian Medal of Honor.
After Emperor Haile Selassie was deposed by a military dictatorship the Congressional Black Caucus led by Congresswoman Shirley Chisholm strongly supported Ethiopians in America to be given Extended Voluntary Departure Status from 1977 up to 1982 until the situation in the homeland improved.
Our joint celebration is an effort to strengthen the value, unity and diversity among people. We can continue to build a relationship of respect and mutual inclusion in everything we do by working, praying, dancing, eating, singing, celebrating together.
—
If You Go:
Kwanzaa Celebration 2011
Monday, December 26th
1320 Good Hope Road
Washington D.C., SE
7:00 PM – 11:00 PM
Phone:202.255.1400
—
Related:
Photos: 2011 Kwanzaa-Genna Holiday Celebration