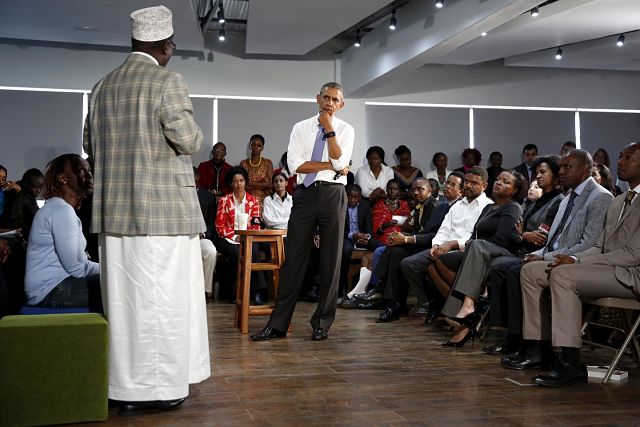 PRESIDENT OBAMA'S LEGACY IN AFRICA IS A STATE OF MIND
As President Barack Obama winds down his time in office, pundits around the globe, not just in Washington, will begin assessing the impact of his administration.
Secretary of State John Kerry's stops in Kenya and Nigeria this week focused attention on the administration's record in Africa. In stark contrast to 2008, when Obama's unique personal history made his campaign for—and ultimate election to—the White House the cause for intense pride and excitement across the continent, many Africans today may well be tempted to shrug off the upcoming transition as they carry on with their lives.
But if the Obama legacy does not include signature initiatives comparable to the enactment of the African Growth and Opportunity Act (AGOA) under President Bill Clinton or the creation of the United States Africa Command (AFRICOM)—the U.S. military headquarters on the continent—by President George W. Bush, it would be a mistake to discount the change that has occurred during Obama's watch.
The first intimation of the change of tact occurred in the first year of his administration in 2009 when, addressing the Parliament of Ghana during his first post-election foray into sub-Saharan Africa, President Obama affirmed: "Africa's future is up to Africans."
Speaking with a personal authority that perhaps only he could claim among recent U.S. heads of state, Obama went on to tell his audience that they had to take responsibility: "Now, it's easy to point fingers and to pin the blame of these problems on others. Yes, a colonial map that made little sense helped to breed conflict. The West has often approached Africa as a patron or a source of resources, rather than a partner. But the West is not responsible for the destruction of the Zimbabwean economy over the last decade, or wars in which children are enlisted as combatants. In my father's life, it was partly tribalism and patronage and nepotism in an independent Kenya that for a long stretch derailed his career, and we know that this kind of corruption is still a daily fact of life for far too many."
It was four years before the president returned to the continent, when he visited Senegal, South Africa and Tanzania in 2013. But during that trip's major policy address at the University of Cape Town, he reiterated his country's commitment to the continent, emphasizing a new U.S.-Africa partnership that moves beyond assistance and foreign aid and towards supporting African countries and their militaries to increase their capacity to solve problems: "Now America has been involved in Africa for decades. But we are moving beyond the simple provision of assistance, foreign aid, to a new model of partnership between America and Africa—a partnership of equals that focuses on your capacity to solve problems, and your capacity to grow."
The emphasis on partnership in general and, specifically, trade and investment dominated the first-ever U.S.-Africa Leaders Summit in 2014, the largest gathering of African heads of state and government ever convened by an American president. An innovative feature of the gathering was the U.S.-Africa Business Forum, a second edition of which will meet in September at the margins of the United Nations General Assembly, bringing together senior African officials with executives of major companies to develop business opportunities.
If the Obama administration deserves credit for its efforts to shift the emphasis in America's engagement with Africa towards partnership and opportunity, it nonetheless has also had to contend with and will bequeath to its successor some very real security, humanitarian and developmental challenges for which its stewardship remains to be judged.
Read the full article at Newsweek »
—
Related:
What Will the Next US President Mean for Africa?
Mandela Washington Fellows From Ethiopia Meet with President Obama
President Obama Becomes First Sitting U.S. President to Visit Ethiopia
Join the conversation on Twitter and Facebook.