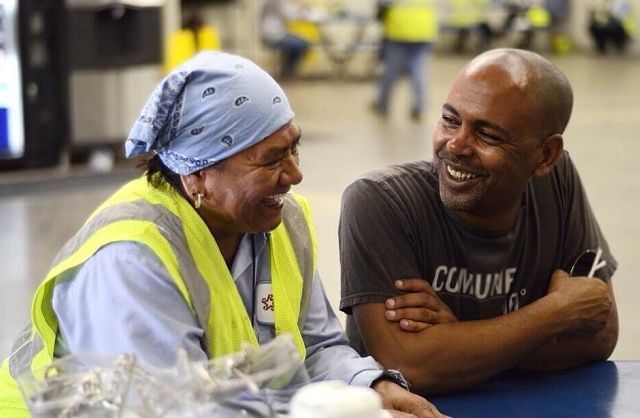 Meet the refugee campaigning against Trump: 'This is what America looks like'
New York — Few of Republican presidential nominee Donald Trump's policies have divided voters like his views on immigration. And as his promises to deport undocumented workers and build a wall with Mexico come under ever greater scrutiny, one US labor union is fighting back.
Starting on Tuesday, AFL-CIO, the largest US federation of labor unions, will start airing ads on social media starring executive vice-president Tefere Gebre, to back up a mail campaign in battleground states about what it means to be an American and an immigrant. It's unlikely to win over Trump or his supporters, but that's not who Gebre or AFL-CIO is looking to reach.
Gebre describes himself as a quadruple threat in Trump's world. "I happen to be a black man, a refugee, an immigrant and a labor leader," he said. The dynamic of this election gives some people a sense that some things are more "American" than others and Gebre wants to correct that. "My belief is that no one is more American than I am. I thought that people need to hear that," he said.
After escaping Ethiopia as a child, Gebre came to the US. In his role at the AFL-CIO he has traveled across the country sharing his experience. In addition to discussing racial and economic justice, Gebre helped lead the union's effort to naturalize immigrants across the nation so, come November, they can go out and vote for the America that welcomes everyone.
In 2013, there were about 8.8 million legal permanent residents who were eligible to apply for US citizenship. According to Pew Research Center, applications for naturalization increased 13% between October 2015 and January 2016 with a quarter of a million immigrants applying to become citizens.
"We are processing hundreds of thousands of people to become citizens and go to the ballot box and, one way or another, tell Donald Trump what they think in response of what he thinks of them," said Gebre.
—
Related:
Tefere Gebre: Don't tell me I'm not American – The True story of my journey from Ethiopia to the U.S.
Hillary Torches Trump: He is 'Taking Hate Groups Mainstream'
How Can America Recover From Donald Trump's Hatred and Paranoia?
What Will the Next US President Mean for Africa?
GOP Flight From Trump Continues
Join the conversation on Twitter and Facebook.