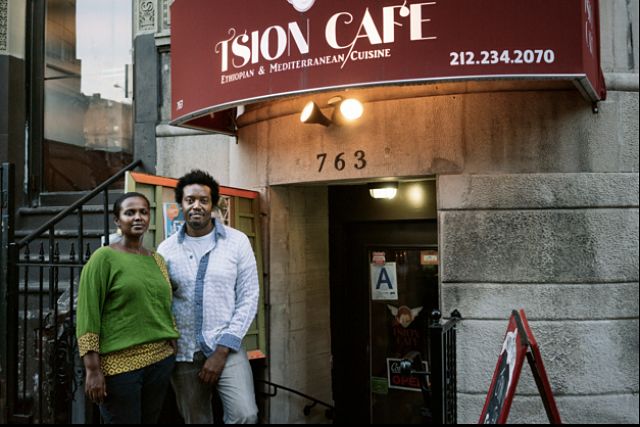 At Tsion Cafe in Harlem, Food From Ethiopia via Israel
On one side lie eggs scrambled with lox over a drape of injera, the sour, springy Ethiopian flatbread as thin and pliant as a crepe and perforated like coral. On the other side, challah French toast, its egg coating spiked with awaze, a meld of earthy-hot berbere and tej, or Ethiopian honey wine, a drink of millenniums past.
At Tsion Cafe in Harlem, breakfast is biography. Beejhy Barhany, the chef, was born in the Tigray region of northern Ethiopia, into a community of Beta Israel, as Ethiopian Jews are known. In 1980, when she was 4, her family and almost the entire population of her village fled on foot to Sudan, walking only at night to evade detection and resting on the Sabbath.
They hoped one day to reach the Holy Land, invoking Israel's Law of Return, which welcomes those of Jewish heritage as immigrants. (According to one origin story, Ethiopian Jews are descended from King Solomon and Queen Sheba.) After three years, Ms. Barhany's family was smuggled through Kenya and Uganda by Land Rover, then flown to France and, finally, Israel.
She spent four years on a kibbutz tilling the land, an experience that taught her to respect ingredients in their natural state. At Tsion, Ethiopian vegetable stews betray little tinkering beyond the near-melt of slow-cooked onions, garlic and ginger that gives body to every dish, and an occasional shot of berbere, a concatenation of 17 spices, the strongest among them cumin, cardamom and chile.
—
Related:
From Ethiopia to Israel to Harlem: Tadias Q&A with Beejhy Barhany, Owner of Tsion Cafe
In Pictures: Tsion Cafe in Harlem Combines Ethiopian & American Cuisine with Community Art

Join the conversation on Twitter and Facebook.