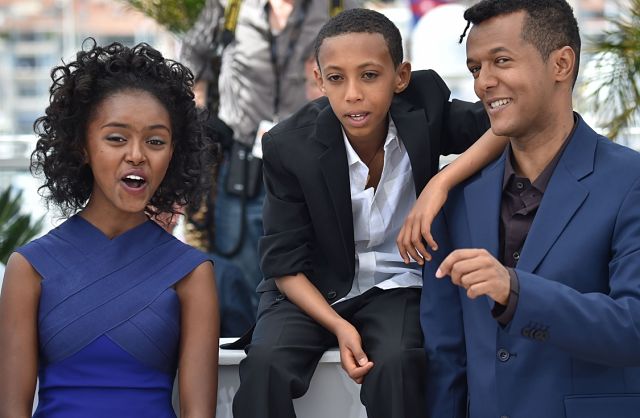 By Tambay A. Obenson
It made its World Premiere at the 2015 Cannes Film Festival, marking the very first time in Cannes Film Festival history that an Ethiopian film has screened as an "Official Selection." Yared Zeleke's "Lamb" hails from Slum Kid Films, an Ethiopia-based film production company co-founded by Ama Ampadu, which aims to discover and nurture emerging talent in Ethiopia, as well as to support the development of Ethiopian filmmaking.
"Lamb" tells the tale of nine-year-old Ephraim and his constant companion, a sheep named Chuni. Ephraim's affection for Chuni deepens after he loses his mother to famine. Consequently, his beloved father sends him and Chuni far away from their drought-stricken homeland, to live with distant relatives in a greener part of the country. Ephraim soon becomes a homesick outcast who is always getting into trouble. When his uncle orders him to slaughter Chuni for the upcoming holiday feast, Ephraim devises a scheme to save the sheep and return to his father's home.
Director Yared Zeleke holds an MFA in Writing and Directing from NYU. He has written, produced, directed and edited several short documentary and fiction films, and worked under director Joshua Litle on his award-winning documentary "The Furious Force of Rhymes," which was also profiled on this blog, last year.
"Lamb" was selected to screen in the Un Certain Regard sidebar of the 2015 Cannes festival – a program created to recognize young, promising talent and to encourage innovative and daring storytelling on film.
A first trailer for the film has surfaced and is embedded below; however, it's for the film's French release, meaning it's subtitled in French, not English.
—
Related:
Lamb Review: Sheer Brilliance Knits Together First Ethiopian Film at Cannes (The Guardian)
Watch: Ethiopia's First-Ever Cannes "Official Selection" Drama 'Lamb' (Indiewire)
Lamb: Yared Zeleke's Film at Cannes 2015 (TADIAS)
Cannes 2015: the complete festival line-up (The Telegraph)
Home work: Filmmaker Yared Zeleke's Origin Stories (Manhattan Digest)
Join the conversation on Twitter and Facebook.