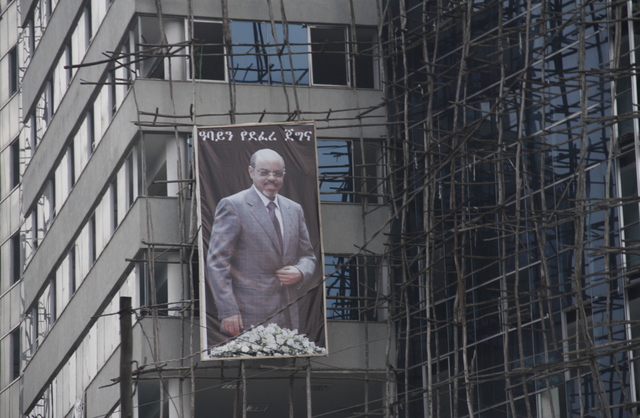 ADDIS ABABA — Ethiopia is starting to look to the future, following the death of Prime Minister Meles Zenawi, who was buried after a state funeral on Sunday.
Life is returning to normal in Ethiopia's capital after more than two weeks of mourning for longtime ruler, Meles Zenawi.
Abi Hailemichael works in a barbershop in the Bole neighborhood of Addis Ababa. Like many Ethiopians, he says Meles' work for the country must not be forgotten. "While we reflect on the diligent and tireless work he did for the nation, we have a responsibility to carry out his good plans," he said.
Meles sparked rapid economic development during more than 20 years in power.
Many wonder what will become of the country now that he's gone.
Meles' deputy Hailemariam Desalegn is due to replace the prime minister, but has yet to take the oath of office.
Foreign Ministry Spokesman Dina Mufti says Hailemariam is officially in control. "The council has already decided that the deputy prime minister will take charge immediately because this is provided in the constitution. In the absence of the prime minister, he is the acting prime minister. He is now in charge of all national affairs," he said.
The question is whether Hailemariam can garner the kind of broad support that made Mr. Meles an icon.
Hailemariam is not Tigray, another challenge he faces. That ethnic group controls most of the country's institutions, including the military.
Rumors in the capital say the ruling party is considering sidelining him. Dina Mufti says this is not true. "So-called internal squabbles or rivalries within the party, no. This is a non-starter, there is not. This is a very solid party," he said.
Meles' had little tolerance for the opposition. His government frequently jailed journalists and activists who voiced dissent.
Medhane Tadesse, an independent anayst, said Ethiopia's leaders are unlikely to change that anytime soon. "In the long-term, gradually, yes. In the short-term, no, because the government might behave more like the same, if not very repressive, because of the lack of confidence. They do not know the waters they are entering now," he said.
Meles Zenawi had a definite vision for Ethiopia's future. Always seeing the big picture, he was known to plan the country's development years in advance. So even after his death, the policies he put in motion are expected to continue to transform the country, for better or for worse.
—
Related:
Former PM Meles Zenawi Laid to Rest (AP)
Photo Journal From Addis Ababa: Nation Bids Farewell to Meles (TADIAS)