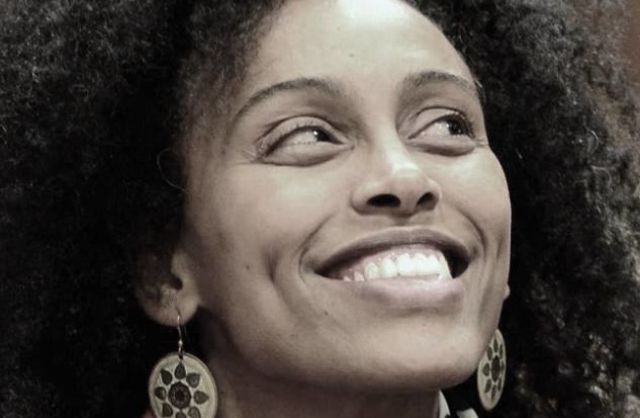 Tadias Magazine
By Tadias Staff
September 4th, 2017
New York (TADIAS) — This month Antu Yacob will become the first Ethiopian American to have a play staged at the United Solo Theatre festival in New York City when she performs her one-person show, In the Gray, on September 17th at the largest solo theatre festival in the world.
The 75-minutes storytelling and performance art narrates Antu's personal experience while growing up in the United States as she forms and re-negotiates her Ethio-American identity first as a teenager and later an adult pursuing a career in the theatre and film industry. In the Gray features Antu playing several engaging characters including herself, her 8-year-old son, as well as her muslim and Oromo activist mother who lives in Minnesota.
"I constantly have this experience of being between two cultures," Antu told Tadias. "That's why I call it In The Gray, because a lot of things are not black and white for me." Antu says she tries "to experiment with social and political activism in an entertaining way."
In the Gray is directed by Celestine Rae with lighting & set design by Matthew Fick, show image by Anthony Artis and executive produced by Tadias Magazine.
Antu was invited as a guest speaker to play excerpts from an edited version of the show this Summer at the Ethiopian Heritage and Culture Camp in Harrisonburg, Virginia where she led a theatre workshop for the children. "I was very happy with the feedback," shared the Ethiopia-born actress and playwright who immigrated to the U.S. when she was five years old. "It was well received both by the kids and their parents." In addition, Antu was also one of the panelists at this year's "Empowering the Community Weekend" event run by the Helen Show in D.C. on August 26th.
"It's hard to put Antu into words. It's even harder to put her in a box," states the show's announcement. "Quirky, awkward, sometimes hot, sometimes lukewarm, this Ethiopian American woman, actor, daughter and mother explores her experience of being an outsider from deep within."
Watch: In The Gray by Antu Yacob Preview Video
Antu, who holds a Master of Fine Arts degree in Acting from Rutgers University in New Jersey, grew up in San Francisco and Minnesota. Her acting career includes roles in NBC's Law & Order: SVU and the recently released Netflix series Gypsy. She played lead roles in the films Eminent Domain (DeepFreeze Media) and Walking In Circles (NYU Film/Elegance Bratton) as well as supporting roles in Conjure (TerraLuke Media) and Fine Art (Shannon Ousley/Zoe Munlyn). Her play entitled Mourning Sun, set in Ethiopia and New York, was performed at the West End Theatre in Manhattan in 2015 and at the 2016 Kampala International Theatre Festival in Uganda last Winter.
The film Conjure, which she produced and acted in premiered at the 2017 Hip Hop Film Festival in August and won several awards including the Vanguard award (writer and director Adrian Luke Sinclair) and Best Supporting Actor award (Charles Richard Barboza). Likewise the Netflix series Gypsy in which Antu makes a guest star appearance as Sasha Knolls is released and currently on.
Regarding In the Gray Antu says: "I knew that I wanted to write about my experience not only as an actor, but also as an Ethio-American professional in the entertainment industry. It's a point of view that I don't see reflected in mainstream media, but it is something that I live with."
—
If You Go
IN THE GRAY BUY TICKETS

Performed by Antu Yacob, ETHIOPIA
Sun 9/17 2:00pm
drama, comedy, storytelling, movement, performance art, 75 min.
All shows are staged at Theatre Row: 410 West 42nd Street, New York City. TICKETS, with a price of $35 (plus a $2.25 Theatre Restoration Charge) are available at the Theatre Row Box Office and online through Telecharge at www.telecharge.com. You may also call Telecharge at 212-239-6200. When placing your reservation, please provide: the FESTIVAL name (United Solo Theatre Festival), the name of THEATRE (Theatre Row – The Studio Theatre), and the specific DAY and TIME of SHOW you would like to see.
Related:
In the Gray: A One Person Ethio-American Show by Playwright Antu Yacob
Join the conversation on Twitter and Facebook.