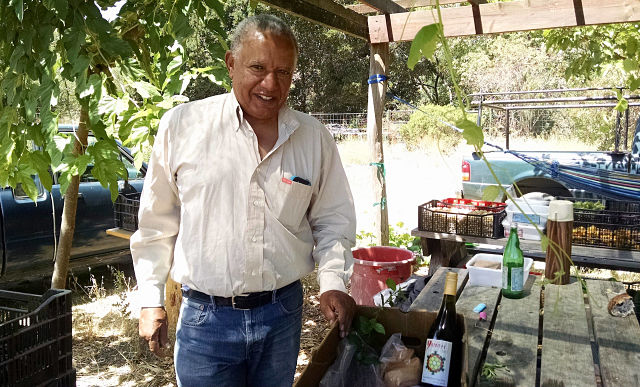 Menkir Tamrat first came to the U.S. from Ethiopia to pursue a career in tech. But now he's forging a connection to his childhood home through farming specialty Ethiopian chili peppers outside of Fremont in the East Bay.
At his farm, he walks down a row of leaf-green pepper plants to a shady arbor in back. The peppers are ripening to vibrant reds and chocolatey browns. In the coming weeks, Menkir will dry them, crush them and make them into spice blends essential to Ethiopian cuisine.
"Imagine, there's the berbere, the chili, first," Menkir explains. "And then 12- or 11-plus additions of seasonings and spices and herbs. So it's a sum of all these different things."
Menkir wasn't always a farmer. He grew up in the countryside of Ethiopia in the 1960s. He watched farmers working in the fields and selling their vegetables at the market.
In the early 1980s, Menkir got his MBA and came to the Bay Area to start a career in high-tech management. The food from his homeland was never far from his heart. But when he tried to recreate it with local California ingredients, something was missing.
So he went to Ethiopia and brought back the seeds he needed to start a garden. At his home in Fremont, he filled his yard with Ethiopian herbs and vegetables…
—
Join the conversation on Twitter and Facebook.