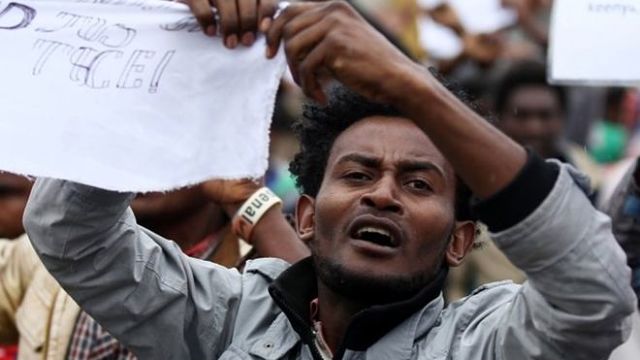 Addis Ababa – Two Ethiopian opposition leaders have been arrested and held in detention for the last two weeks, their party said on Monday, as the country grapples with rare anti-government unrest.
The authorities detained Agaw Democratic Party leader Andualem Tilahun and another senior party member, Beyilu Teshale, on August 29, but the information was only made public on Monday.
The party represents the Agaw people, an ethnic group numbering around two million based in the northern Amhara region, who have largely kept out of the trouble that has flared in Ethiopia this year.
"Andualem Tilahun was charged on allegedly public incitation against the government, which is not true," Tesera Be, a party advisor who is currently in the United States, said.
"The charge is politically motivated to eliminate the opposition party in the region."
The spokesperson for the regional government could not be reached for comment.
—
Related:
Joint Letter to UN Human Rights Council on Ethiopia
17 Artists Cancel Ethiopian New Year Concerts Due to Protests
US Ambassador to UN on 'Excessive Use of Force' Against Ethiopia Protesters
Ethiopia's Failing Ethnic-based Political System (Foreign Affairs Magazine)
Washington Post Editorial on Current Wave of Protests in Ethiopia
'A Generation Is Protesting' in Ethiopia, Long a U.S. Ally (The New York Times)

Protesters have been complaining about economic and political marginalization . (Photos: Reuters)
UPDATE: 'Nearly 100 killed' in Ethiopia Protests (BBC News)
Several dozen shot dead in weekend protests across Ethiopia (AP)
In Addis Ababa Security Forces Use Tear Gas to Disperse Protests (Reuters)
What is behind Ethiopia's wave of protests? (BBC News)
Protests in Ethiopia's Gonder City Signal Uncertain Future (VOA News)
Protest in North Ethiopian Region Signals Rising Discontent (Bloomberg)
Riots in Gonder Claim Casualties (DW Report — Jul 15, 2016)
Join the conversation on Twitter and Facebook.