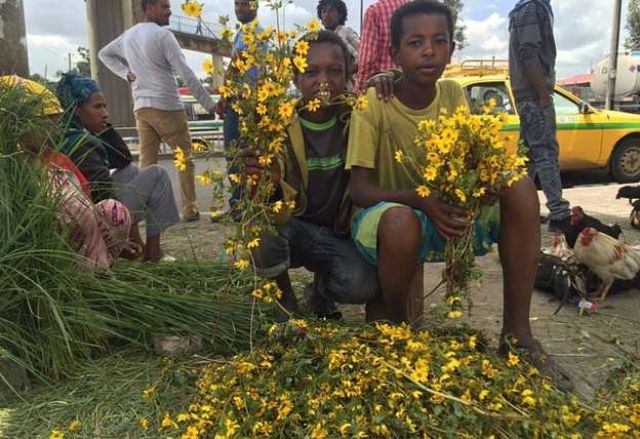 Many Ethiopian singers have cancelled their concerts to welcome in Ethiopia's New Year, which falls this year on 11 September.
Ethiopians will be ushering in 2009 on Sunday as their calendar is more than seven years out of sync with the one used in much of the rest of the world.
But some singers are planning to put a dampener on the celebrations that take place on New Year's Eve.
They say it would not be good to celebrate when people are mourning those who have died in recent protests.
At least 17 singers have backed out of gigs to be held in various venues in the capital, Addis Ababa, and other cities.
Oromo singer Abush Zeleke was among those who announced their decision on their official Facebook page.
And on Twitter have reacted to the news:
Some Ethiopian musicians who live abroad are following suit.
US-based singer, Abby Lakew, announced she had cancelled all her shows in Dallas, Atlanta, Chicago and Las Vegas:
I do not want to perform on any stage as of right now while my people are dying!!!
I will pray for peace and I believe in one love!!! All people should be treated equally, with the same rights, dignity and human rights."
There has been an unprecedented wave of protests in Ethiopia in recent months.
Demonstrations began in the Oromia region last November and have spread elsewhere.
And over the weekend at least 23 inmates died in a fire at a prison where anti-government protesters were reportedly being held.
—
Related:
Joint letter to UN Human Rights Council on Ethiopia
US Ambassador to UN on 'Excessive Use of Force' Against Ethiopia Protesters
Ethiopia's Failing Ethnic-based Political System (Foreign Affairs Magazine)
Washington Post Editorial on Current Wave of Protests in Ethiopia
'A Generation Is Protesting' in Ethiopia, Long a U.S. Ally (The New York Times)

Protesters have been complaining about economic and political marginalization . (Photos: Reuters)
UPDATE: 'Nearly 100 killed' in Ethiopia Protests (BBC News)
Several dozen shot dead in weekend protests across Ethiopia (AP)
In Addis Ababa Security Forces Use Tear Gas to Disperse Protests (Reuters)
What is behind Ethiopia's wave of protests? (BBC News)
Protests in Ethiopia's Gonder City Signal Uncertain Future (VOA News)
Protest in North Ethiopian Region Signals Rising Discontent (Bloomberg)
Riots in Gonder Claim Casualties (DW Report — Jul 15, 2016)
Join the conversation on Twitter and Facebook.