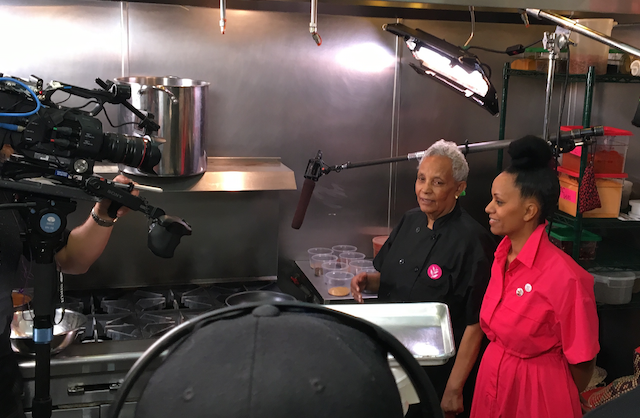 Tadias Magazine
By Tadias Staff
Published: Tuesday, September 13th, 2016
New York (TADIAS) — Los Angeles, California, which is home to the only official Little-Ethiopia neighborhood in America, is also headquarters for Azla Vegan, a family-owned Ethiopian restaurant — located near the University of Southern California (USC) — that we first featured in 2013 in an interview with owner Nesanet Teshager Abegaze as it first opened. This week, Azla Vegan will be featured on the Food Network's television episode of "Cosmopolitan Comfort: Diners, Drive Ins, and Dives."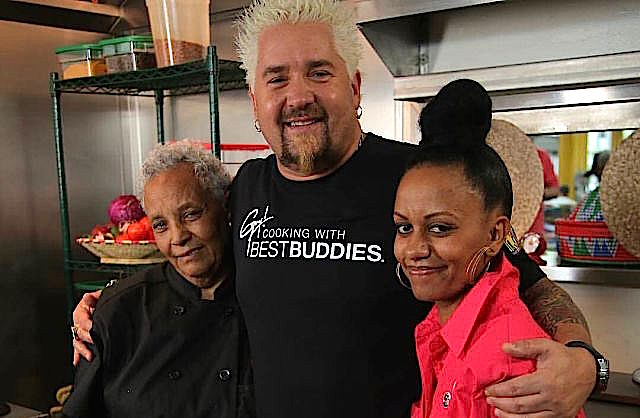 Azla Mekonen and her daughter Nesanet Teshager Abegaze with Guy Fieri of Food Network at their family owned business Azla Vegan in Los Angeles. (Courtesy photo)
According to the Food Network the segment on Azla Vegan will air on Friday, September 16th and Saturday September 17th hosted by the show's star Guy Fieri.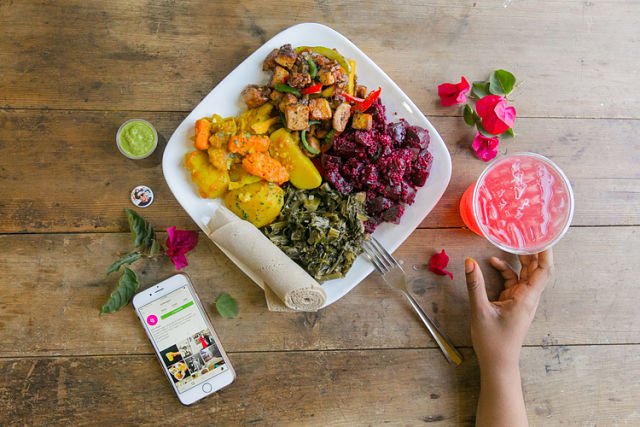 Food by Azla Vegan. (Photo by Kayla Reefer)
"This trip, Guy Fieri's grabbing all kinds of cosmopolitan comfort food," the Food Network announced. "In Los Angeles, a mother-daughter team dishing out authentic Ethiopian specialties."
"In the summer of 2013, head chef Azla joined forces with her youngest daughter, Nesanet to open the first Ethiopian restaurant in South Los Angeles," shares the restaurant's website. "Azla's culinary expertise and commitment to traditional wisdom is complemented by Nesanet's extensive studies and work in the education, wellness, and marketing industries. Nesanet's training in Biological Sciences at Stanford University and UCLA, her studies at the Institute for Integrative Nutrition, and yoga instructor certification greatly inform ingredient choices and food preparation techniques at Azla. In addition to serving delicious, nutrient dense food, the Azla team is committed to building community through arts and cultural programming, all while providing space for a return to the ceremonious nature of breaking bread with friends and family."
—
You can learn more about the show at www.foodnetwork.com and Azla Vegan at www.azlavegan.com. Facebook, Twitter, Tumblr, and Soundcloud handles are @azlavegan.
Join the conversation on Twitter and Facebook.