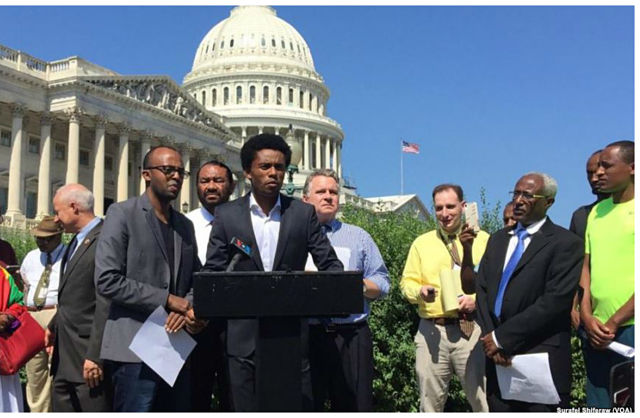 Feyisa Lilesa, the Ethiopian silver medalist in the marathon at last month's Rio Olympics, was in Washington this week, calling on the U.S. Congress to take action in solidarity with Ethiopians protesting their government.
"I know that Americans are peace-loving people. My people are also peace-loving people, but they have been denied peace for a very long time," he said in his native Afaan Oromoo at a news conference Tuesday on Capitol Hill. "People are calling for the freedom, democracy that you have here. We want the same things, and I call on the U.S. government to urge the Ethiopian government to make sure that democracy prevails in Ethiopia."
Lilesa gained worldwide attention when he crossed his wrists as a sign of protest as he approached the finish line during the Rio men's marathon. He is Oromo and made the gesture in solidarity with Oromo protests that have occurred in Ethiopia since last November over issues including land rights and fair representation in the government.
U.S. Representatives Chris Smith, a New Jersey Republican; Keith Ellison, a Minnesota Democrat; and Mike Coffman, a Colorado Republican, presented House Resolution 861, "Supporting Human Rights and Encouraging Inclusive Governance in Ethiopia," during the news conference. The resolution calls on the government of Ethiopia to end the use of excessive force by security forces and investigate the killings and disturbances during protests in the Oromia and Amhara regions. It also urges the government to hold security forces accountable for wrongdoing through public proceedings.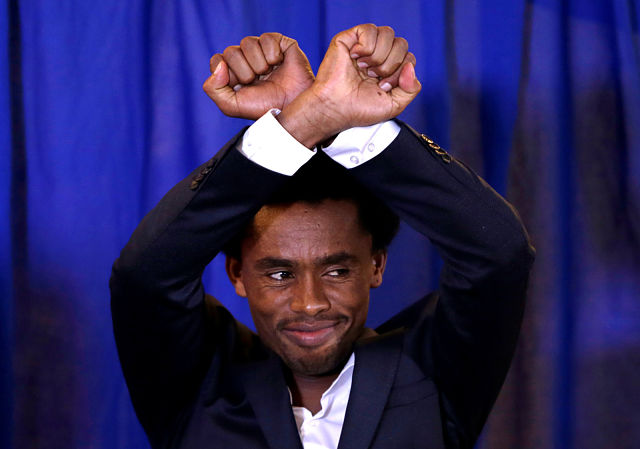 Feyisa Lilesa of Ethiopia arrives at a news conference in Washington, DC, September 13, 2016. (Reuters)
Smith said he met with Prince Zeid Ra'ad Al-Hussein, the U.N. high commissioner for human rights, in New York to discuss human rights issues in Ethiopia.
"He's called for a major fact-finding effort where we could get to the bottom of people who are being killed, tortured, slaughtered in the streets, and then to hold the perpetrators of these crimes to account," the lawmaker said.
Eleven civil society organizations have signed the resolution.
"It's an effort to say to Ethiopia, 'Yes, you've been friends and allies in the war on terror. You've got some very good things with regards to Somalia, but you are mistreating your own people and it's time we spoke out,' " Smith said.
Since Lilesa made his gesture, other athletes have followed suit. Ebisa Ejigu crossed his arms in the Quebec City Marathon in Canada, and Tamiru Demisse, an Ethiopian paralympic runner, did the same as he won his silver medal in the men's 1,500 meters for the visually impaired at the Paralympics in Rio.
Lilesa, in the U.S. on a temporary visa, said he was figuring out his future but was not seeking asylum in the U.S.
—-
Washington Post Interview With Feyisa Lilesa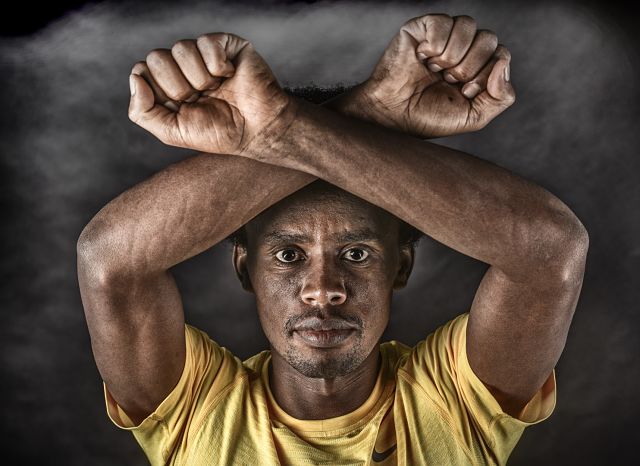 Feyisa Lilesa said of his Olympic gesture: 'It's almost as if I opened the shutters and now people can know, people can hear.' (Bill O'Leary/The Washington Post)
September 13th, 2016
Marathoner Feyisa Lilesa packed his bags and left his wife and two children last month, with plans to post a blazing fast time at the Summer Olympics, earn a spot on the medal podium, bring attention to the plight of his people — and most likely never be able to return home.
"It was very hard to say good-bye," said the Ethiopian long-distance runner, "but I also knew that it's not harder than what people are going through in my country."
Lilesa indeed won silver at the Rio de Janeiro Games and made international headlines when he approached the finish line with his wrists crossed, flashing an "X" symbol that the world soon learned was a bold protest against the treatment of his people by Ethiopian government. He has lived in limbo since, convinced that if he returned to Ethiopia he would be imprisoned or possibly killed.
After nearly three weeks of uncertainty, living covertly in a Rio hotel room, the 26-year-old finally left Brazil and arrived in Washington last week, a temporary stop en route to a new life, one in which he's indefinitely separated from his family, constantly worried for their safety and thrust onto a global stage as a visible lightning rod for political dissent back in his native country.
"I think what I did is good so far because the government has shut off the people's voices and no one knows about the fight," Lilesa said Monday in an interview with The Washington Post through an interpreter. "It's almost as if I opened the shutters and now people can know, people can hear."
Read more at The Washington Post »
—
Related:
VOA Interview: Feyisa Lilesa Says Olympic Protest Was Planned
From Rio to America: Olympian Feyisa Lilesa's Washington Post Op-Ed
Olympian Feyisa Lilesa Arrives in the U.S.
In Seattle, African Athletics Org Renames 5k Race 'Feyisa Lilesa Heroic Run'
In Pictures: Feyisa Lilesa's Daring Protest Reminiscent of 1968 Olympics
Over $100000 Raised For Ethiopian Olympian Runner
Medallist Feyisa Lilesa fails to return to Ethiopia after Olympics protest
Olympian Feyisa Lilesa Shows Solidarity With Protesters in Ethiopia at Rio Games
Ethiopia Says Protesting Marathoner to Be Welcomed as Hero, But Does He Want to Go?
Ethiopia 'hero' runner gets asylum donations after Oromo protest sign
Olympian Feyisa Lilesa Shows Solidarity With Protesters in Ethiopia at Rio Games »
Ethiopia Olympian Feyisa Lilesa Protests Government With Marathon Medal
Ethiopian Marathoner's Protest Puts Him at Odds With His Government
Ethiopian runner makes protest sign as he crosses line in Rio
Rio 2016 Olympics: Genzebe Dibaba Takes Silver Medal in the Women's 1,500 Meters
Rio 2016 Olympics: Etenesh Diro Advances to 3,000-Meter Steeplechase With 1 Shoe
Ethiopia's First Gold at Rio Olympics: Almaz Ayana Smashes 10,000m Record
Ethiopia's Olympic Swimmer Robel Kiros: Body Shaming & Questions of Nepotism
All Eyes on Brazil as 2016 Olympics Starts
Join the conversation on Twitter and Facebook.