'Table for One' Interview with Marcus Samuelsson (WSJ)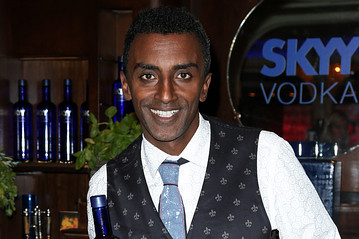 Marcus Samuelsson (Photo: Alison Brod Public Relations)
It's hard to imagine a chef who's got more on his plate – literally and figuratively – than Marcus Samuelsson. The award-winning restaurateur and gastronome is behind two eateries in New York's famed Harlem neighborhood – Red Rooster and the more recently opened Ginny's Supper Club – plus others in Sweden, Chicago and Costa Mesa, Calif. This past summer, his memoir "Yes, Chef," which details both his unique upbringing as an Ethiopian adopted by a Swedish family and his fast-track culinary career in the United States, was released to glowing reviews. (His previous books, including "New American Table" and "The Soul of a New Cuisine," have all been cookbooks.) He also has developed the guy-centric Food Republic site, unveiled his Ambessa line of specialty teas and cooked the occasional state dinner for President Obama. Oh, and he just signed on as the first culinary ambassador for SKYY Vodka.
The Wall Street Journal caught up with Samuelsson at a SKYY event this week at Ginny's Supper Club.
Continue reading at The Wall Street Journal.