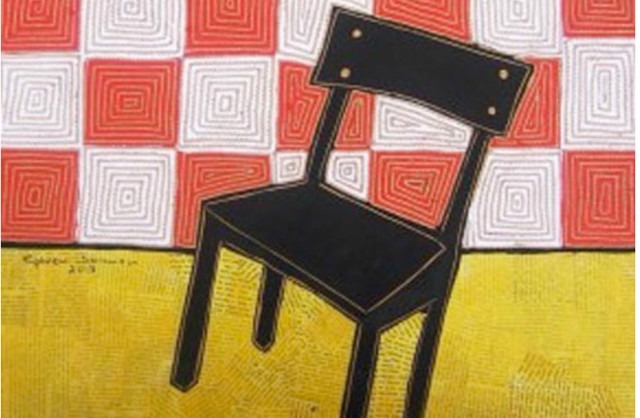 By Karen Obling
Ephrem Solomon's work differs from the prevailing artistic style in Ethiopia in many ways. Although his art is also two-dimensional and on canvas, a strong graphic emphasis makes it stand out from the ever-dominant paintings, be they figurative or abstract.
Solomon was born in Addis Ababa in 1983, and developed an interest in art early. After high school he studied fine art and graphic design, which shows in his portfolio. His works is often very descriptive and literal, focusing on the world around him; the city of Addis, its people, places, spaces and nature. Objects such as the signature chair and slippers are incorporated as a reflection on broader political and social themes.
"My works portrays the distance between what the governed people need and want and what the response is from the governors. I have tried to picture, as precisely as possible, the actual and innocent feeling of the governed," Solomon says.
Read more at The Guardian.
—
Related:
Yohannes Aramde's Bona Fide Step
Symposium In D.C. to Launch the Skunder Boghossian Fellowship Award
Photographer Michael Tsegaye On His Upcoming Exhibition in Oslo
Join the conversation on Twitter and Facebook.