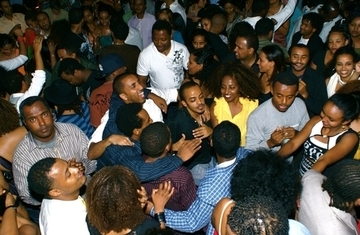 Above: At the 2009 Ethiopian New Year's celebration at SOB's
in New York. (Photo by Kidane Mariam).
Tadias Magazine
Events News
Published: Sunday, September 27, 2009
New York (Tadias) – The Sounds of Brazil (SOB's) in New York City has been the host of Ethiopian New Year's concerts for the last few years. The venue has featured its share of big name artists, including Aster Aweke and Kuku Sebsibe. SOB's continued its tradition with this Year's celebration held on Friday September 11, 2009 – featuring live performances by Efrem Tameru & Gosaye Tesfaye. The event was organized by the promotional group Massinko Entertainment. Here are photos by our contributing photographer Kidane Mariam.
–
Related Video: Gossaye Live at SOB's (2008)