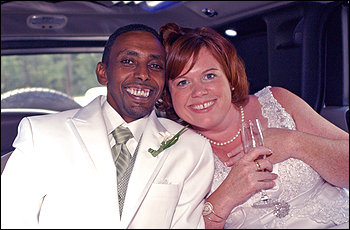 Above: "Megan, who is of Irish ancestry, and Haile, born in
Ethiopia and raised in Eritrea, celebrated with an Irish-Catholic
ceremony that incorporated Ethiopian traditions, followed by a
reception featuring American and Ethiopian foods and music,
and a three-tiered cake decorated with shamrocks." – WaPo
(Patricia Mccarthy Photography ).
The Washington Post
Sunday, September 27, 2009
Megan McCarthy, 36, is a membership director for a private club. Haile Gebregziabher, 41, is an administrative manager for a homeless shelter. They live in Annandale.
How they met: Read more.