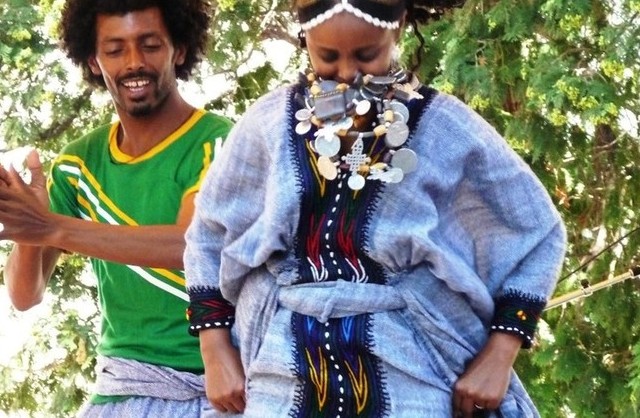 Tadias Magazine
By Tadias Staff | Events News
Published: Thursday, September 27, 2012
New York (TADIAS) – Addis Ababa-based musical troupe, Fendika, will return to New York City to launch their first solo U.S. tour at Joe's Pub on Tuesday, October 2nd. The six-member group consists of two traditional dancers, Melaku Belay and Zenash Tsegaye, krar player Seleshe Damassae, drummer Misale Legesse, masinko player Endris Hassen, and singer Nardos Tesfaw.
While their music relies heavily on the azmari tradition Fendika also gives us a wonderful taste of the diversity of the nation through dance renditions from various cultural groups across Ethiopia.
Last August, Melaku, the group leader and owner of club Fendika in Addis Ababa, was hailed by Alistair Macaulay of The New York Times as "a happily superlative artist" after Fendika's exhilarating performance at the annual Lincoln Center Out-of-Doors Festival.
Founded by Melaku in 2009 Fendika has since collaboratively worked with both Ethiopian-based groups such as Addis Acoustic Project as well as internationally with Ethio-inspired groups including Debo Band, Akalé Wubé, Ukandanz, and The Ex. Fendika performed at the 35th International Sacred Music Festival as well as the Lowell Folk Festival.
Following their recent tour in Spain, Fendika will be performing in several U.S. cities including Hartford, CT, Boston, MA, Washington D.C., and Smithfield, RI following their opening tour in NYC next week.
—-
If You Go:
Tuesday, October 2nd, 2012
Joe's Pub
425 Lafayette Street, NY, NY 10003
Fendika
7:30pm
Entrance: $18
Click here to purchase advanced tickets.