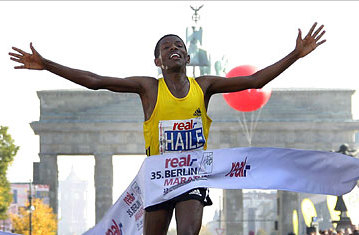 By THE ASSOCIATED PRESS
Photo: Wolfgang Kumm/European Pressphoto Agency
Published: September 28, 2008
Filed at 6:17 a.m. ET
BERLIN (AP) — Haile Gebrselassie broke his own marathon world record on Sunday, becoming the first runner to finish under 2 hours, 4 minutes.
The Ethiopian clocked 2:03:59 to win his third straight Berlin Marathon, beating the mark of 2:04:26 he set last year over the same flat course. He also became the first runner to win the race three times.
"Today, I'm so, so, so happy. Everything was perfect today," Gebrselassie said.
Running under clear, sunny skies in mild temperature, Gebrselassie paced himself well and controlled the race from the start.
The 35-year-old Gebrselassie was way out front as passed through the Brandenburg Gate and ran to the finish line to applause from the crowd lining the route.
Gebrselassie said his training in the buildup to the race was hindered by an injury.
"I had a small calf muscle problem and I stopped for a week, and then I started again a week ago," he said. "Then today I had, you know, some doubts … but it was really very good."