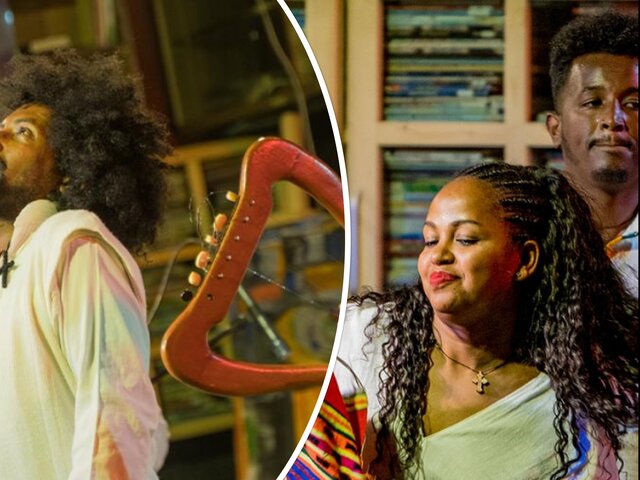 Tadias Magazine
Updated: September 29th, 2023
New York (TADIAS) – Prepare to be transported to the heart of Ethiopia's rich cultural heritage as UCLA proudly presents Ethiocolor, a captivating 9-member ensemble led by the charismatic Melaku Belay.
Ethiocolor's performance, which is set to take place this evening in Los Angeles at the UCLA Nimoy Theater in Westwood, is a deep dive into Ethiopia's 2000-year-old Azmari culture, a treasure trove of artistry that has captivated hearts for centuries. Their practice is an awe-inspiring fusion of dance and music, effortlessly bridging the gap between ancient traditions and contemporary innovation.
With roots nurtured by a diverse array of Ethiopian traditions and enriched by their own lived experiences, Ethiocolor's ecstatic performances have the remarkable ability to unite audiences in a profound way that transcends cultural boundaries.
Melaku Belay, a talent described by The New York Times as a "walking earthquake," stands as Ethiopia's foremost contemporary interpreter of eskista, a rhythmic and shoulder-shimmying dance that embodies the nation's spirit. His star shines brightly both within his home country and as a global cultural force.
Belay's Fendika Cultural Center in Addis Ababa has become a vibrant hub where artists, musicians, and enthusiasts from around the world gather to celebrate Ethiopia's rich artistic heritage. It's a testament to his unwavering dedication to preserving and sharing the essence of Azmari culture.
Presented as part of Center Stage, a public diplomacy initiative of the U.S. Department of State's Bureau of Educational and Cultural Affairs, Ethiocolor's performance receives funding from the U.S. Government and is administered by the New England Foundation for the Arts in cooperation with the U.S. Regional Arts Organizations. General management is provided by Lisa Booth Management, Inc.
—
If You Go:
Ethiocolor at the UCLA Nimoy Theater
Click here for Tickets
Related:
DC: The Kennedy Center Presents Historic Musical Tribute to Ethiopian Icon Emahoy Tsege Mariam Gebru
Join the conversation on Twitter and Facebook.