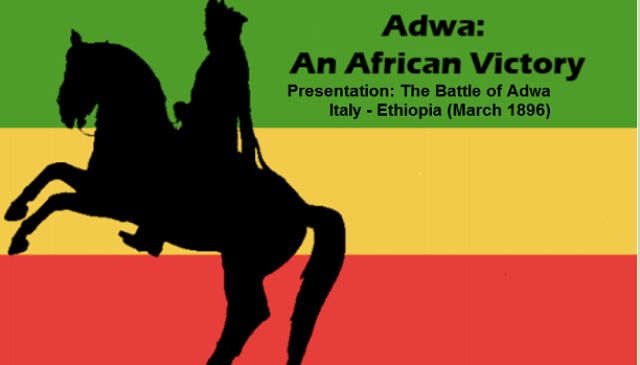 Tadias Magazine
By Tadias Staff
October 1st, 2017
New York (TADIAS) – Although Ethiopia and Italy have strong diplomatic ties today they also share the common history of the Battle of Adwa in 1896, which is remembered as the first and decisive routing of a colonial power by an African army — a battle credited for launching a global movement to "unscramble" the continent from European domination.
An upcoming special presentation by Dr. Ayele Bekerie on the topic of Adwa and current Ethiopia-Italy friendship will be held in Harlem on Friday, October 6th hosted by the Ethiopian Community Mutual Assistance Association (ECMAA).
Professor Ayele, who gave a lecture on the same subject last week at Central Connecticut State University, told Tadias that his talk in New York will likewise include the contemporary alliance between Ethiopia and Italy as well as plans to establish a Pan-African University in Ethiopia.
Dr. Ayele is an associate professor and coordinator of international affairs in the Department of Heritage Conservation, Institute of Paleo-Enviornment and Heritage Conservation at Mekelle University. He was an Assistant Professor at the Africana Studies and Research Center at Cornell University. He is the author of the award-winning book Ethiopic, An African Writing System: Its History and Principles — among many other published works as well as a contributing author in the acclaimed book One House: The Battle of Adwa 1896 -100 Years.
Moreover, Dr. Ayele is a contributor to Tadias Magazine, and for the past several years has published a series of exclusive annual articles on this website emphasizing not only Adwa's significance in modern African history, but also calling for the registry of the historical location as a UNESCO World Heritage Site:
Adwa: Genesis of Unscrambled Africa (2016)
119 Years Anniversary of Ethiopia's Victory at the Battle of Adwa on March 1st, 1896 (2015)
Reflection on 118th Anniversary of Ethiopia's Victory at Adwa (2014)
The Significance of the 1896 Battle of Adwa (2013)
Call for the Registry of Adwa as UNESCO World Heritage Site (2012)
—
If You Go:
Presentation by Dr. Ayele Bekerie: The Battle of Adwa
Date: Friday, October 6, 2017
Time: from 6:30 to 8:30pm
Place: 220 Manhattan Ave corner of 110th St. & Cathedral Parkway
Direction by subway: B, C, to Cathedral Pkwy (110 St)/Central Park West
Organized by Ethiopian Community Mutual Assistance Association of NY, NJ & CT.
Join the conversation on Twitter and Facebook.