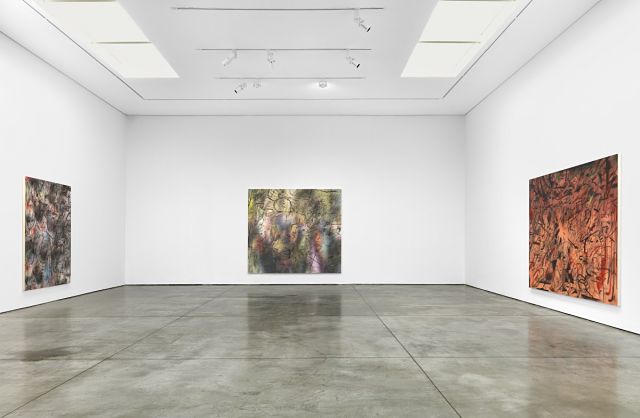 Tadias Magazine
By Tadias Staff
Published: October 1st, 2018
New York (TADIAS) — To observe close-up one of Julie Mehretu's thought-provoking and spacious artworks is to immerse oneself in history as well as to reflect and examine some of the burning socio-political issues of the day. An exhibition of new work by Julie Mehretu that is currently on display at White Cube gallery in London precisely makes this point.
"Featuring large-scale paintings and etchings, the exhibition highlights Mehretu's use of gestural abstraction as a conduit for evocative and charged emotion and intellectual enquiry," the gallery said in a press release. "Glenn Ligon has described the artist's work as 'traversed by history [...] grounded in urgent political and social questions while simultaneously troubling the limits of abstract painting.'
Marking a continued departure from her earlier work which focused on a layered language of mapping and architectural detail, these paintings take the immediacy of a news photograph as their starting point. These include images of such recent pivotal junctures as the rallies of independence in Catalonia; the voracious wild fires of California; the violent white supremacy rally and counter rally in Charlottesville, Virginia; the instantaneous outbreak of Muslim ban protests throughout the United States; and the Grenfell Tower fire in London.
Julie, who is one of the most significant American artists of our time, was born in Ethiopia in 1970 and now lives in New York. She was a MacArthur 'Genius Grant' Fellow in 2005, and has subsequently won the American Art Award from the Whitney Museum of American Art, as well as the U.S. Department of State Medal of Arts Award (2015). In 2017 The San Francisco Museum of Modern Art commissioned Julie to complete an installation in their lobby. She also serves as a trustee of the American Academy in Berlin.
Julie's current work at White Cube Mason's Yard — which will be on display through November 3rd, 2018 — is: "Less structured than previous work and characterized by their intensely animated and vital surfaces," notes the exhibit announcement. "Mehretu's paintings suggest a suspended moment ripe with possibility, defining what Suzanne Cotter has identified as a 'mobility' inherent in her painterly language. Part of a continual state of becoming, where marks reliant on effacement and erasure relate to action, they allow for new thematic possibilities.. Urging the viewer to look, question and take time, Mehretu ignites the potential of painting to carry political significance, serving as an energising and motivational force that draws vital nerves and narrative lines with both the history of modernist abstraction as well as that of engaged political thought."
—
If You Go:
Julie Mehretu SEXTANT
Show ends on November 3rd 2018
White Cube Mason's Yard
25 – 26 Mason's Yard
London SW1Y 6BU
www.whitecube.com/
Join the conversation on Twitter and Facebook.