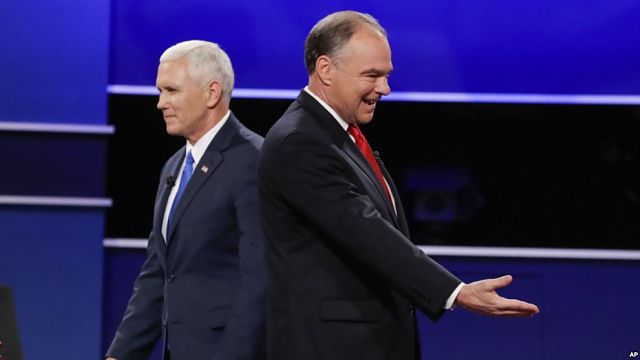 Tim Kaine and Mike Pence Clash Sharply Over Their Running Mates
FARMVILLE, Va. — Senator Tim Kaine and Gov. Mike Pence repeatedly threw each other on the defensive over their running mates' policies and character at the vice-presidential debate on Tuesday night, with Mr. Pence making little effort to directly rebut the near-constant attacks on Donald J. Trump's fitness for the presidency.
Mr. Kaine was far more aggressive from the start, answering a question about his own qualifications with lengthy praise for Hillary Clinton and a declaration that "the thought of Donald Trump as commander in chief scares us to death." Mr. Kaine, trained as a litigator, frequently used this tactic of turning questions about himself and Mrs. Clinton into opportunities to extol his running mate and assail Mr. Trump.
"I can't imagine how Governor Pence can defend the insult-driven, me-first style of Donald Trump," Mr. Kaine said after noting that Mr. Trump had once described Mexicans as "rapists" and questioned President Obama's citizenship.
Mr. Pence, more formal and mild-mannered than his rival, seemed frustrated by the fusillade coming from Mr. Kaine. He often looked down and shook his head slightly in the face of the attacks on Mr. Trump, while Mr. Kaine tended to interrupt and talk over Mr. Pence.
But at other points he showed a deftness that Mr. Trump often lacked at his own debate last week. And he also offered voters a face of the Republican Party that was not overly dark or angry, as Mr. Trump has often been in this race.
—
Join the conversation on Twitter and Facebook.