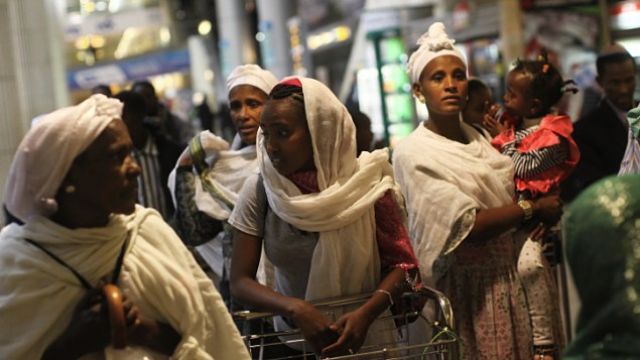 The first group of Ethiopian Jews to move to Israel after waiting for three years will arrive at Ben Gurion International Airport on Sunday evening, almost a year after the government approved the immigration of 9,000 Jews still left in Ethiopia.
The 78 immigrants who will be on the flight were first approved by the Interior Ministry in 2013 but never came due to lack of budget for their absorption, which includes housing allowances for at least two years and apartment grants.
"The tickets are bought, the absorption centers are ready, and we're going to welcome them with open arms on Sunday," said Nimrod Sabbah, a spokesman for Likud MK David Amsalem.
"The people waiting for them at the airport, you'll see, are soldiers and people who have served Israel, they have been waiting for years and years for their families," he said. "It pains me to say this, but if they were blond with blue eyes they would have been here ages ago. But they're black, and the government of Israel is behaving with deep racism towards them."
The move comes as Ethiopia is dealing with widespread violent anti-government protests, the most significant civil unrest in decades, centered in the Oromo and Amhara regions. Gondar, which is home to approximately 6,000 of the 9,000 Jews still left in Ethiopia, is located in the Amhara region.
Read more at The Times of Israel »
—
Related:
American Killed in Ethiopia Identified as UC Davis Researcher Sharon Gray
U.S. citizen killed, foreign factories attacked in Ethiopia
US Says Female American Citizen Killed in Ethiopia Amid Protest
After Ethiopia Irrecha Tragedy, Renewed Calls on U.S to Take Stronger Measure
Ethiopia Protests Continue Over Fatal Bishoftu Stampede at Irrecha Festival
Join the conversation on Twitter and Facebook.