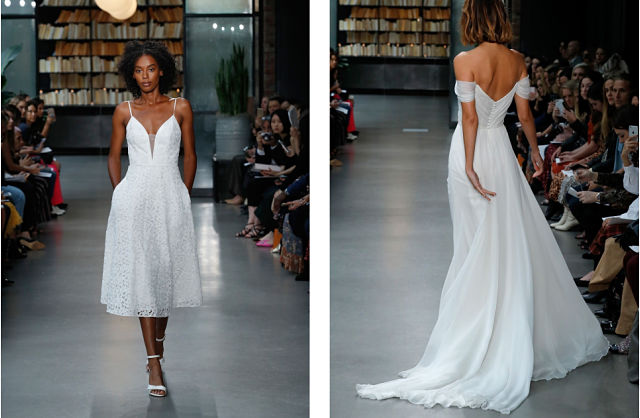 Tadias Magazine
By Tadias Staff
Published: October 6th, 2018
In Pictures: Amsale Fall 2019 Runway Show at New York Bridal Fashion Week
New York (TADIAS) — It's Bridal Fashion Week in New York City and Amsale New York debuted three Fall 2019 collections during a runway event held at Eventi Hotel's Second floor in Manhattan on Friday, October 5th. Amsale, which is one of the leading bridal fashion brands in the United States, was founded by the late Ethiopian American designer Amsale Aberra who passed away earlier this year.
The Fall 2019 runway presentation was designed by Margo Lafontaine who was selected by Amsale Aberra as her successor. "Lafontaine's featured designs include the Fall 2019 collections of Amsale, Nouvelle Amsale and the re-launch of the Little White Dress Collection," notes the event press release. "Lafontaine joined the Amsale design team in 2017 and spent precious months with the beloved late founder and creative director. She was most recently senior studio director of Vera Wang, where she worked for more than a decade."
"Amsale was the creator of the modern wedding dress and as I help carry that legacy forward, I am threading her unmistakable Amsale aesthetic into each aspect of my designs" said Margo Lafontaine.
As Design Director at Amsale New York, Lafontaine describes the current collection as "designed with the Amsale bride in mind to celebrate and enhance each woman's energy, personality, and her natural style."
Below is a description of this season's collections and photos from Amsale Fall 2019 Runway Show at New York Bridal Fashion Week:
NOUVELLE AMSALE FALL 2019 COLLECTION
Inspired by the modern and effortless bride who understands fashion but stays true to her personal style, the Nouvelle Amsale Fall 2019 collection shows bold textural details in the form of graphic floral laces offset with delicate layers of tulle. Clean necklines are carefully detailed with sheer borders and trailing lace appliques. These effortlessly elegant gowns are designed to create endless versatility.
LITTLE WHITE DRESS FALL 2019 COLLECTION
Celebrating timeless Amsale silhouettes, the iconic Little White Dress collection is re-launching after its original debut in 2009, reimaging effortlessly elegant details for the modern bride for each occasion surrounding her wedding. Designed with sheer illusion overlays, draped bow detailing, graphic lace, and crisp tailored faille, these dresses underline the unmistakable Amsale aesthetic— classic but not ordinary.
AMSALE FALL 2019 COLLECTION
Designed to embody an understated take on old school glamour, the Amsale Fall 2019 collection reflects a mix of dramatic design and simple silhouettes to cater to every bride. Draped crepe sheaths are presented alongside handcrafted tulle and Lyon lace ball gowns. Working with the signature interplay of opacity and sheerness, striking necklines are featured in elegant fronts and backs with sculptural counterpoints of bow and draping details. Decorations remain subtle yet luxe with delicate hand-painting, tonal embroidery and hand-cut Lyon lace that lend a modern texture to the collection.
—
Related:
Special Tribute to Legacy of Amsale Aberra, Spring 2019 Runway Show
Join the conversation on Twitter and Facebook.