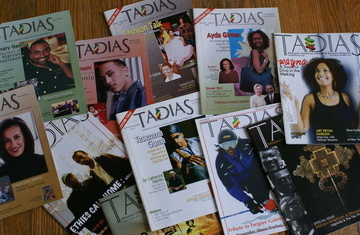 From the Editor's Desk:
Tseday Alehegn
Updated: Tuesday, October 7, 2008
New York (Tadias) – Tadias Magazine, the leading lifestyle and business publication devoted exclusively to the Ethiopian-American community, was featured on Washington D.C. based Voice of America's weekly Amharic radio program on Sunday, October 5, 2008.
VOA's Amharic journalist and international broadcaster Alula Kebede interviewed Tadias Founder & Publisher, Liben Eabisa. The program focused on the challenges and milestones of the magazine since its inception in San Jose, California five years ago. Tadias joined Google's exclusive news index network last August.
You may listen to the audio of the interview at VOA.com. Select the "Evening Program" for Sunday (Audio available until October 12, 2008). The Tadias interview comes after a brief world news and coversation with filmmaker Haile Gerima. Click here and enjoy!