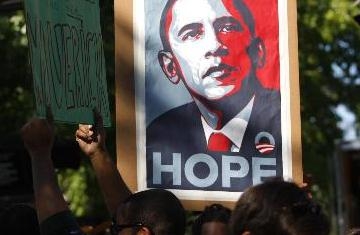 Photo: A student holds a sign in support of Senator Barack
Obama, Democratic presidential candidate, on the campus of
Washington University in St. Louis before the vice presidential
debate in St. Louis, Missouri, on Oct. 2, 2008.
(Andrew Harrer/Bloomberg News)
Bloomberg
By Jonathan D. Salant
Tuesday, October 7, 2008
Barack Obama has widened his lead over Republican presidential rival John McCain in two national polls and is maintaining an edge in two daily tracking polls with less than a month to go before the election.
An NBC-Wall Street Journal poll found Obama supported by 49 percent of registered voters, a 6-point margin over McCain. Two weeks ago an NBC-Journal poll put Obama's lead at 2 points.
Obama led McCain 53 percent to 45 percent among likely voters in a CNN-Opinion Research Corp. survey, up from a 4-point advantage for the Democrat in September. Obama's lead widened to 14 points, 56 percent to 42 percent, among registered voters.
He also is ahead by 8 points in a Gallup Inc. daily tracking poll of registered voters, the 10th straight day he's held a statistically significant lead in that survey. A Diageo- Hotline tracking poll showed Obama getting 47 percent to McCain's 41 percent. Read More.