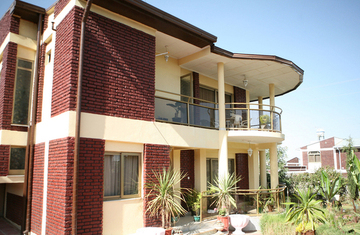 Tadias Magazine
By Tadias Staff
Published: Wednesday, October 8, 2008
New York (TADIAS) – We recently spoke with Valerie Steele, CEO of GojoSuites – a brokerage firm that sells property in Ethiopia – about the current real estate market in that country.
Prior to her current position, Steele served as the Director of International Development for the Organization of Rehabilitation and Development in Bahir Dar, Ethiopia.
Here is our interview with Valerie Steele: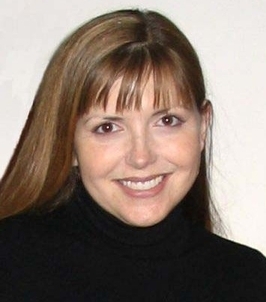 Valerie Steele: CEO of GojoSuites
TADIAS: Please tell us about GojoSuites.
Steele: GojoSuites is a subsidiary of African First Real Estate Finance LLC (AFREF) and was developed to serve the Ethiopian diaspora who want to buy homes in their homeland. AFREF is currently developing additional companies that will serve diaspora from other African countries. GojoSuites has an exclusive contract with Ayat Share Company, Ethiopia's real estate pioneer.
TADIAS: We understand that you recently relocated to Washington D.C. from Bahir Dar to become the CEO for GojoSuites. What attracted you to get involved in the real estate business in Ethiopia?
Steele: The Ethiopian real estate market, as the diaspora knows, is booming and it's an exciting opportunity for Ethiopians around the world. When I lived in Ethiopia, I saw firsthand the development of new homes and neighborhoods with amenities only previously available in western countries. I know that the diaspora has a desire to be reconnected and I see the lack of connection between the developers and the home seekers and feel I could make a difference in bridging the gap.
TADIAS: You've mentioned that you have an "exclusive contract with Ayat share Company" in Ethiopia. Why only Ayat?

Steele: We chose to partner with Ayat because they are so well established and have gone through the learning curve to figure out what works and what doesn't. With 12 years of experience and the fact that they have built and delivered more than 4,000 houses, they are truly the experts.
I spent a month with Ayat to understand the way they operate and to build the relationship with them so that we can effectively represent them in the US.
TADIAS: Why should people purchase a home in Ethiopia?
Steele: That's a very personal decision. For some people, it is about providing a beautiful home for family members who live in Ethiopia. For others, it's about making sure there is a place for them to return to live when they retire. And others recognize what an incredible investment it is since the Ethiopian real estate market has been hot for several years and is expected to continue to be in the foreseeable future.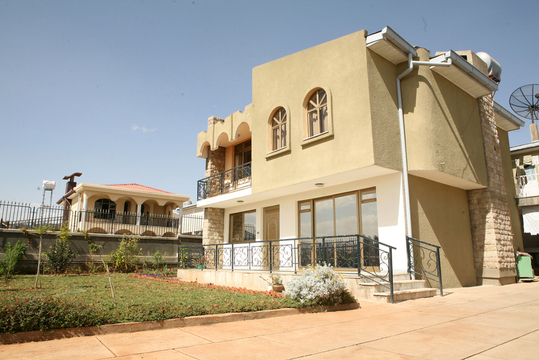 Photo: Villa – single family house – in Ethiopia (courtesy of GojoSuites)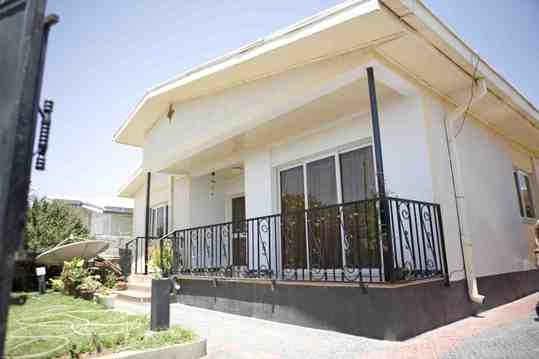 Single family villa in Ethiopia (photo courtesy of GojoSuites).
TADIAS: Who is legally eligible to buy property in Ethiopia from overseas?
Steele: Anyone who meets one of the following criteria:
1. Has Ethiopian citizenship and lives abroad
2. Foreign nationals of Ethiopian origin
3. Has Ethiopian parents
TADIAS: How affordable is a new home or apartment? What is the average price in your market?
Steele: Ayat is working hard to make housing affordable for those who have been unable to buy in the past. They are offering mortgage financing (50% financing for villas and 40% or 67% financing for apartments). And they are offering a unique plan where the buyer can lock in a price today and delay delivery of the home for up to five years. This gives the buyer more time to save money so that they can finance less of the cost of the house and save interest.
Ayat apartments start at $42,951 for a two bedroom 62m2 home. Villas (single family houses) start at $144,941 for a two bedroom, 72m2 home. These prices include the 15% VAT and land lease. Also, Ayat is offering 5% discount off the base price (not including VAT) of a new apartment home in Ayat Mender until October 31. The prices for all Ayat homes will increase November 9 so, for people who are ready to buy, now is a good time.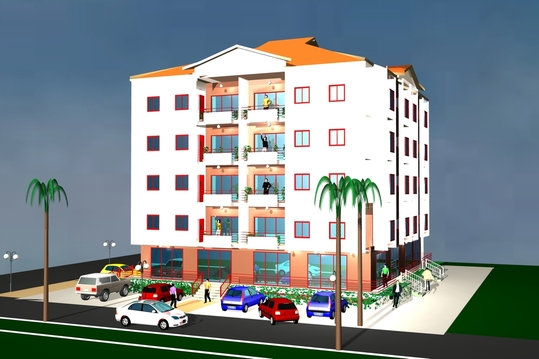 Apartment building illustration (Apartments are currently under construction).
Some people tell us the prices are high but those are individuals who have not been to Ethiopia for many years and do not realize how prices have changed since they were last there. In fact, the customers who buy Ayat homes are quite satisfied with the prices and, to our knowledge, Ayat homes are actually priced below market rates.
TADIAS: Are there are any U.S. taxes, fees or penalties that potential customers would need to pay Uncle Sam for owning land in Ethiopia? Also are there any hidden fees from the Ethiopian government that we need to know about?
Steele: We are not aware of any taxes, fees or penalties that would be owed to the US government for owning property in Ethiopia but we always advise people to check with their tax person or accountant on matters such as these.
As far as fees from the Ethiopian government, there is value added tax (VAT) which is 15%. VAT is included in the published price of all Ayat homes. There is also the title deed transferring fee of 6%, which is not included in the published price.
TADIAS How does financing work for U.S. residents?
Steele: Prospective buyers have several options. They can pay cash as a lump sum or on an installment basis as their home is built. The final payment is made at the time the home is turned over to the buyer.
Or, as I mentioned above, they can select from Ayat's financing options. Ayat lets the customer choose the length of the mortgage for up to 30 years. We are not aware of anyone else offering a financing option this long.
5% will lock in the price of any villa or apartment for up to 90 days after the expiration of that price. 10% is needed to get a contract on a specific property.
TADIAS One of the biggest complaints we hear from Diaspora homeowners and investors is that new houses are never completed within the time frame that clients are promised. Is that a problem that people should expect?
Steele: Ayat and other builders experienced delays in the past due to limited availability of raw materials, such as cement, steel and other imported construction items, lack of access to construction financing and outdated construction techniques. GojoSuites and Ayat are aware of this issue and are creating solutions to overcome it. For example, GojoSuites is partnering with Ayat to identify new approaches to construction that can speed up the process. And Ayat is researching the potential for building their own cement factory so they will be less reliant on external vendors. Initiatives such as these are giving Ayat the confidence to guarantee us there will be no delays.
TADIAS: What advice would you give to someone who is considering acquiring a primary or second home in Ethiopia?
Steele: We are not in a position to give advice to prospective buyers but we can reiterate what we know from those who have chosen to buy a home. It's a wonderful way to connect with your homeland and help or be near to the people you love. Having lived in Ethiopia, I have a deep appreciation for the closeness of families and the beauty of many local traditions, so I understand why people who grew up in Ethiopia want to reconnect. And it's a great investment opportunity.
TADIAS: What is the most challenging issue you face as a Real Estate Professional for property in Ethiopia?
Steele: Helping customers overcome the negative stigma that was associated with home real estate development in the past. Real problems occurred and, though Ethiopia has not reached the level of speed and predictability that exists with home construction in the US, it's come a long ways and we expect that improvements will continue over time.
TADIAS: Tell us one of your client success stories or an interesting moment in your profession.
Steele: A woman who recently visited our office has been helping out an older woman and a young orphaned girl who live in Addis Ababa, both of whom have no families. Her dream is to buy a home for them where they can live together and become a family for each other. Another couple has children that are nearly grown and they want to buy a home in Addis so their sons can visit and become more connected with their Ethiopian heritage. These are examples of the fun part of my job of making people's dreams come true.
TADIAS: How do you expect the housing market in Ethiopia will be affected by the global meltdown in real estate?
Steele: So far so good! The Ethiopian real estate market continues to grow at an astounding rate, despite all of the unprecedented and shocking situation in home real estate in the US. In fact, we wonder if it will make buying a home in Ethiopia even more attractive because people feel safer investing there than they do in the US right now.
TADIAS: How do you advertise and how can potential buyers learn about your company and the services you offer?
Steele: We are advertising in Ethiopian media in major US cities where Ethiopians live. In October, we are having free seminars every Sunday afternoon in our DC headquarters to provide detailed information about the opportunities available. In 2009, we will go on tour to the major US cities where Ethiopians live.
For more information, call us at 202-234-gojo [4656] or visit our website at: www.gojosuites.com.
TADIAS: Is there anything else you would like to share with our readers?
Steele There are many Ethiopians from the diaspora moving back to Ethiopia for several reasons. These include medical doctors, IT experts, engineers and entrepreneurs. They don't want to deal with the hassle of buying houses from Addis Ababa brokers ("delalas") so they come to us for a hassle free experience.
We are very excited about the opportunity to meet you and get to know you so that we can help make your dream of owning a home in Ethiopia come true!
—
Publisher's note: GojoSuites advertises on Tadias Magazine.