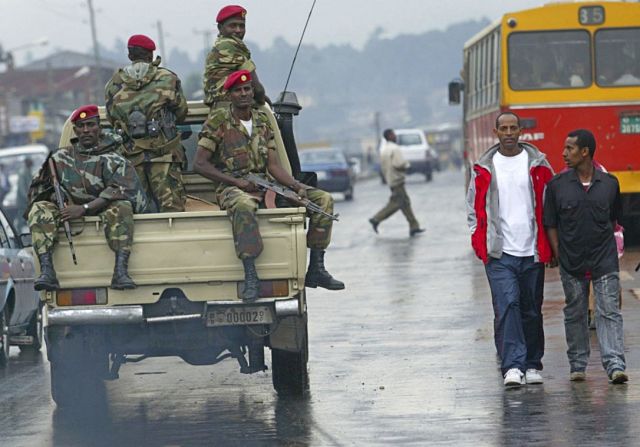 October 9, 2016
Govt Declares 6-month State of Emergency, Shuts Down Internet
A week after a deadly stampede brought anti-government protests and violence to a fever pitch, Ethiopia declared a six-month state of emergency Sunday. Prime Minister Hailemariam Desalegn says the declaration is necessary for the government to protect both property and citizens' lives.
The stampede struck at a religious festival that also had qualities of a demonstration that was held last Sunday, Oct. 2, in the town of Bishoftu, southeast of Addis Ababa. That's where many in a massive crowd that had gathered to celebrate the annual Irreecha thanksgiving festival chanted slogans and crossed their fists over their heads, an increasingly familiar gesture that protests oppression and calls for more rights for the people of Oromia.
Video recordings from that day show that the crowd had been pressing toward an open-air stage when security forces opened fire and deployed tear gas, triggering a panic. Many people initially ran to a nearby treeline for cover, only to become trapped in a deep and steep-sided trench. Others were hemmed in by a nearby lake.
"The government says 55 people were killed — some fell into nearby gullies and drowned," NPR's Ofeibea Quist-Arcton reports. "The opposition says many, many more people lost their lives."
In months of protests in the region, human rights groups say, hundreds of people have been killed and tens of thousands arrested.
—
Related:
Ethiopia imposes state of emergency as unrest intensifies (Washington Post)
Ethiopia on Edge: Govt Declares State of Emergency (AP)
In Ethiopia Protesters Attack Factories, Eco Lodge and Flower Farms
American Killed in Ethiopia Identified as UC Davis Researcher Sharon Gray
U.S. citizen killed, foreign factories attacked in Ethiopia
US Says Female American Citizen Killed in Ethiopia Amid Protest
After Ethiopia Irrecha Tragedy, Renewed Calls on U.S to Take Stronger Measure
Ethiopia Protests Continue Over Fatal Bishoftu Stampede at Irrecha Festival
Join the conversation on Twitter and Facebook.