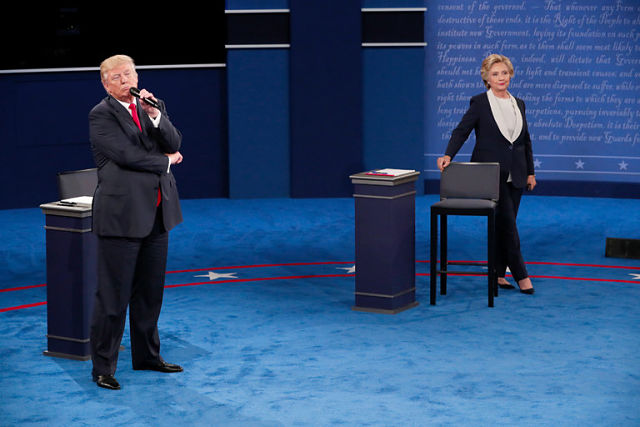 Who Won the Debate? Donald Trump Avoids Annihilation
Donald J. Trump's campaign appeared to be crumbling as he entered the second presidential debate against Hillary Clinton, with Republicans withdrawing support for his candidacy after the disclosure of a vulgar recording that showed him bragging about sexual assault. Facing a barrage of tough questions, the Republican nominee managed to scrape through, evading questions, fabricating answers and attacking his opponent in deeply personal terms.
While expectations for Mr. Trump were low, many commentators and critics thought that he exceeded them and allayed concerns among supporters that his candidacy was finished.
Here is a sampling of the post-debate reaction:
"He improved, exceeded expectations, decisively won several exchanges. She could have landed a death blow tonight and did not."
Guy Benson, political editor at the conservative website Townhall
_______
"I may not care for Trump, but he beat Hillary tonight fair and square even with Martha Raddatz trying to defeat him."
Erick Erickson, writer for the conservative blog The Resurgent
_______
"Donald Trump knows he won't be president. He's now in full carnival-barking, network-launching, party-nuking mode — a scowling, pouting menace who threatened during a nationally televised debate to throw Hillary Clinton in jail and called her husband the most sexually abusive man in political history."
Ron Fournier, writer for The Atlantic
_______
"In keeping her cool and indicting Trump's bad behavior and finally provoking him to threaten to put her in jail, she made certain no one not already in Trump's corner would sign on with him."
Jennifer Rubin, writer for The Washington Post's Right Turn blog
"All the Republicans who backed away from @realDonaldTrump look really really stupid right now."
Laura Ingraham, conservative commentator and editor of LifeZette
________
"Trump looks and sounds defeated. Almost incoherent…"
Marc Lamont Hill, Morehouse College professor
—-
Join the conversation on Twitter and Facebook.