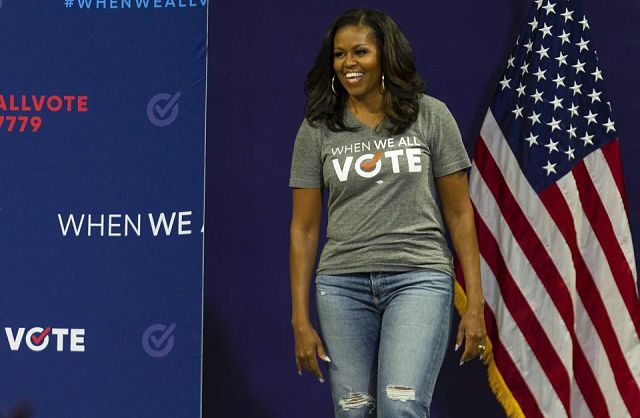 USA Today
Michelle Obama to young voters: 'It's time for us to move out of the way and let you lead'
Michelle Obama brought her voter registration campaign to the University of Miami on Friday, rallying thousands of students and residents to "have a say in the issues we care about."
It was the final stop of her Week of Action tour for When We All Vote at the University of Miami's Watsco Center, before a crowd of about 6,000. The former first lady co-chairs the nonpartisan organization, which aims to encourage voting.
In front of an audience whose shirts read "Register to vote," "#MSDStrong," "Andrew Gillum for Governor," and "I support Planned Parenthood," Obama stressed that voting is the way to make sure citizens' voices are heard.
"It's time for us to move out of the way and let you lead," Obama told the young people in the audience, many of whom flashed the university's U hand sign as she addressed them directly. "This is no longer about me, it's not about Barack, it's about you."
Obama stressed she was "not stumping for any one candidate," and did not mention the names of any elected officials. But she said she is frustrated by the "daily chaos," "pettiness," and "meanness" of politics, adding that whenever she feels like shutting it all out, she thinks of her dad, who made sure he voted in every election.
"He went to vote for the same reason he went to work – to provide for his family," Obama said.
As Election Day Approaches, Here's How to Register to Vote
If you're at least 18 years old and planning to vote on Nov. 6, listen up: Voter registration deadlines are coming.
Forty-nine states and the District of Columbia require voters to register before casting ballots in local, state or federal elections. Registration deadlines vary, but the majority occur throughout October – and 19 of those deadlines are Tuesday. In many states, residents can register in person, by mail or online.
Here's what you need to know.
The basics
U.S. citizens ages 18 and older who meet their state's residency requirements can register to vote by filling out a form. (Find your state's requirements here.) Most states allow online registration, but you can also register at your local or state board of elections office.
North Dakota is the only state that doesn't require registration before voting.
Most states also allow voters to cast their ballots before Election Day. Find out if your state does early voting here.
—
Related:
Midterms: How can election groups get out the vote when just half of Americans say process is 'fair and open'?
Join the conversation on Twitter and Facebook.